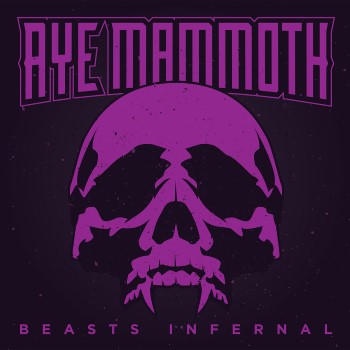 Aye Mammoth returns with another pummeling release that crams everything the band's best at into one refined package without suffering a drop in quality from previous releases.
Beasts Infernal is the fifth project from the trio of vocalist/guitarist Micah Loyed, drummer Phil Stem and bassist Paul Haggard. It clocks in at around 11 minutes, which makes it the group's shortest release to date. However, Aye Mammoth still manages to strike hard and fast in those 11 minutes with four songs that are among the band's best offerings.
Opener "Hunter of the Dark" flirts with that grungy Nashville rock sound the group teased on its 2016 EP, Venomous Bones, boasting some fuzzy but tight guitar work. However, Loyed soon lifts off into an intricate crescendoing guitar solo that shows the band isn't straying too far from its signature hard-rock epics.
The band then rolls right into another quick punch, the dark "Shadowbutcher." It kicks off with a playful guitar riff that sets the stage for the ferocious metal sounds that fill the remainder of the cut. Loyed leads the charge with cataclysmic lyrics delivered in a clearly Lou Reed-esque tone. He also sets his frets on fire with another brutally impressive guitar solo, while the rhythm section of Haggard and Stem truly impresses and holds its own against all the other elements at play.
"Savage Ritual" features a wah-wah effect in the hook that is a bit annoying, but the band makes up for it with haunting, hard-hitting instrumentation. Loyed's Reed-like tone again comes into play here, making this cut sound like what the late icon's ill-fated Metallica collaboration Lulu wished it could be.
The closing number is a combination of two songs, "Thing Without a Name" and "Sleep of the Void." The first section's strenuous rhythm sounds like it could soundtrack a perilous horror movie scene where the main character flees through the woods from an unknown monster. Lyrics about a creature not far behind add to this menacing image beautifully.
The EP closes out on a surprisingly calm and quiet vibe, with the "Sleep of the Void" segment that highlights Aye Mammoth's stylistic range.
With Beasts Infernal, Aye Mammoth is back and hungrier than ever. This fast and furious release is a perfectly re-playable project that packs a punch with every listen.
Find the release on Bandcamp, Soundcloud and YouTube.