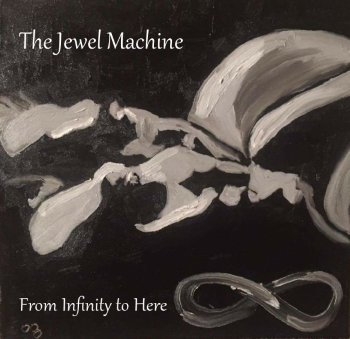 Americana duo The Jewel Machine has quickly established its presence in the local scene with two nice, gently twangy releases in 2017: the spring EP From There to Infinity, and this full-length project, From Infinity to Here. From Infinity to Here shows the band refining its craft and further delivering on the promise shown in their earlier EP.
Terry McClain and Ashlie Jewel are the masterminds behind the project, with the duo providing all the vocals and most of the instrumentation on the album. McClain handles several stringed instruments and percussion while Jewel provides most of the bass. Musical associates Vicky Kremer and Sammy Baker join the party, providing some fiddle/mandolin and drums/bass, respectively.
McClain and Jewel, who co-wrote all the songs on Infinity to Here, continue with an ideal dose of what made their previous release great. They mix Americana/roots with a wide array of songwriting sensibilities and instrumentation.
Lead single "The Waterfall" combines vibes of R.E.M. and '90s adult contemporary songwriters with mandolin, acoustic guitar and banjo for a sound all The Jewel Machine's own. "Pine Heart" brings an equally unexpected stylistic mix for the Americana genre. While there's the typical rootsy genre instrumentation at play, the melody is pure '60s-pop perfection. Jewel's voice steals the spotlight for a sweet tone akin to Velvet Underground chanteuse Nico with a bit of a Southern twang.
The ambitious songwriting is easily heard in just about every track here. "A Book Never Written" compares the stages of a relationship to the chapters of a book. "Helpless," filled with loaded imagery, tells a frantic tale of someone navigating rough waters in their life. "Cannonsburgh Waltz" presents a presumably personal story of a romantic evening stroll through Murfreesboro's beloved pioneer village.
While these songwriting topics aren't necessarily groundbreaking, hearing the Jewel Machine's modern independent-rock quirkiness laid atop an acoustic genre often known for its traditional standards and old-fashioned songwriting sensibilities is a good change of pace.
From Infinity to Here does suffer from a few less interesting points scattered throughout, and some of the slower numbers could have been trimmed a bit. However, the duo offers a passionate approach to songwriting, refined performances, creative melodies, quality mixing and a unique vocal sound resulting from the blend between the two singers.
The Jewel Machine's From Infinity to Here is available on delvinshadepublishing.com, Spotify and Napster.