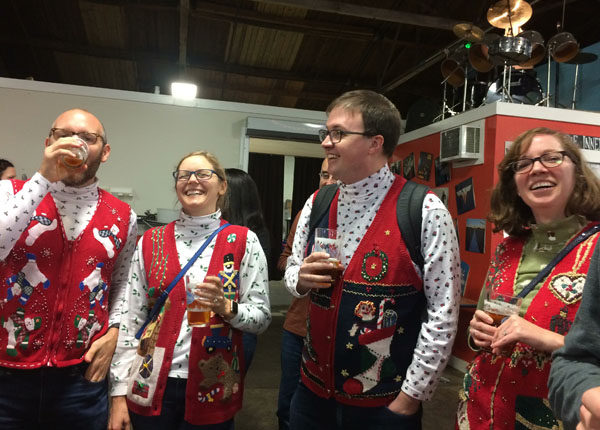 Mayday Brewery invites everyone to come out and celebrate this holiday season at its Ugly Christmas Sweater Party, set for Saturday, Dec. 16.
The celebration will begin with yoga and beer at 1 p.m. Followed by tours at 3 p.m., 4 p.m. and 5 p.m. Andrew White rocks the house with some of our favorite holiday tunes at 7 p.m. The person wearing the ugliest, most festive sweater will receive a prize! So, come adorn yourself.
"The holidays are always fun, but ugly sweaters and beer make them even better!" said Ozzy Nelson, Mayday Brewery owner and founder. He also mentioned, "Andrew White seriously rocks."
My Roots Curbside Culinary, known for creative dishes like the Three-Tier Tomato Basil Grilled Cheese, will be the on-site food truck.
Mayday will also have its Cranberry Blonde on draft.
"Have your bartender mix about one part Old Salem Watermelon Sour with three parts of Cranberry Blonde and you have the nectar of the Christmas Spirit—a mixture we call 'Cranberry Sauce,'" Ozzy continued.
Mayday Brewery is located at the corner of Kings Highway and Old Salem Road in downtown Murfreesboro.