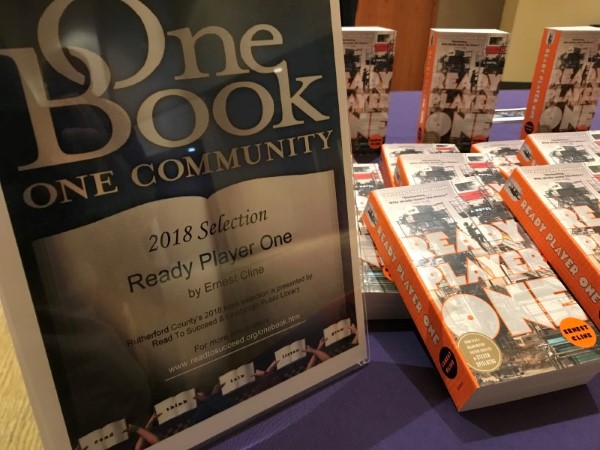 The 2018 One Book of Rutherford County selection will transport readers back to the future, the selection committee announced.
One Book of Rutherford County has chosen Ready Player One by Ernest Cline for its 2018 selection. This science fiction novel follows the adventures of a young man in a dystopian 2044. But don't be fooled by the futuristic setting, the plot of the book revolves around pop culture from the 1980s.
"It's like Stranger Things, but with a happier ending," said Michelle Willard, co-chairperson of the One Book selection committee.
The story, set in a future wrecked by an energy crisis, follows protagonist Wade Watts on his search for an Easter egg in a 1980s-themed virtual reality game, the discovery of which will lead him to inherit a fortune.
"The fast-paced novel is certainly a page-turner that will appeal to all members of the family and will make a great Christmas present," Willard said.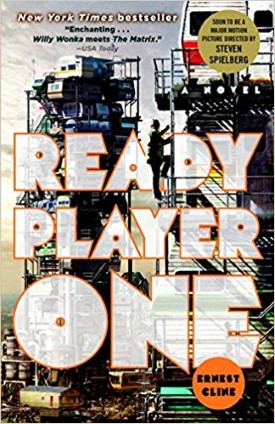 A New York Times bestseller, Ready Player One has also been turned into a major motion picture directed by Steven Spielberg, slated for release in March, 2018.
"This is your chance to read the book and before you see the movie," said Butler Touchton, One Book Selection Committee co-chairperson.
Stay tuned for special events surrounding this year's selection, he said.
After the beginning of the year, copies of the One Book will be distributed around the county at "Book Crossing" locations, which are marked by one of the Read to Succeed red boxes. Found in local businesses and libraries, books can be borrowed for free.
In each book, a sticker on the inside cover will contain information about how to log on to the One Book web page and share comments about the book after you've read it and get registered in a prize drawing. You can pass the copy along to a friend, bring it back to the location where you found it or drop it at any of the other locations.
More details about locations will be announced in the new year.
Each year, Read to Succeed joins with Linebaugh Library and various other community partners to ask adults in Rutherford County to all read the same book. Over the years, the program promoted nonfiction, literary fiction and popular young adult choices.
Previous One Book selections include: The Great Santini by Pat Conroy in 2008; Animal, Vegetable, Miracle by Barbara Kingsolver in 2009; The Soloist by Mark Salzman in 2010; Major Pettigrew's Last Stand by Helen Simonson in 2011; The Hunger Games by Suzanne Collins in 2012; The Fault in Our Stars by John Green in 2013; The Last Policeman by Ben Winters in 2014; The Rosie Project by Graeme Simsion in 2015; Girls of Atomic City by Denise Kiernan in 2016; and Flight of Dreams by Ariel Lawhon in 2017.
Read to Succeed is a community partnership created to promote reading in Rutherford County, with an emphasis on family literacy. For more information, visit readtosucceed.org.