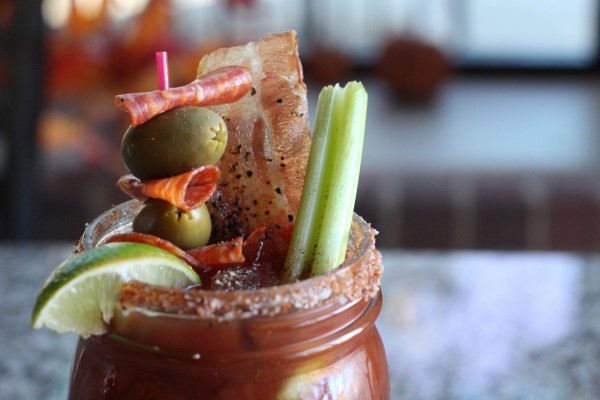 In a college town, there are two things that always seem to unite the local and college crowds: food and sports. And there seems to be no better place for that than The Boulevard Bar and Grill, located on the corner of East Main and Middle Tennessee across from MTSU.
The Boulevard, which marked seven years in business this fall, pairs a welcoming atmosphere with food and drink specials throughout the week. And just like any great sports bar, your favorite team will likely be playing on one of the several TVs hanging throughout the building.
Being an upscale sports bar, The Boulevard takes standard bar fare and gives it a nice twist. So instead of the typical option of a hamburger or cheeseburger, the Boulevard kicks it up a notch and offers 15 specialty burgers with any kind of topping you can think of. They offer the same variety with sandwiches, salads and appetizers, with the fare ranging from calzones and pizzas to tacos and quesadillas.
The large selection of entrées and appetizers makes the bar a nice place to meet up with friends without having to narrow down restaurant choices based on food cravings or dietary needs. And while there's no shortage of fried, meat-focused dishes, there are also vegetarian and gluten-free options scattered throughout the menu.
Although the Boulevard isn't always the most budget-friendly option if you want to make it out for under $20 a person (entrée, drink and tip included), the restaurant's daily specials will help ease the bill. The best deal is on Monday from 5 to 10 p.m. when most meals are half price (south of the border, sandwiches, healthy eats, pizzas and burgers). Various appetizers are $5–7 from 3 to 5 p.m. every day, while two-for-one draft beers, domestic bottles and well drinks are offered from 3 to 6 p.m.
The beer selection, served on tap and in bottles, offers something for everyone with more than 50 kinds to choose from. The Boulevard also has a full bar for those interested in sipping on a glass of wine or a specialty cocktail during their meal.
Despite its obvious sports bar aesthetic, the Boulevard pulls it off without the kind of tacky sports memorabilia that plagues the walls at similar restaurants. Even so, there is just enough local flair and school spirit to make you feel right at home on game day.
Even with several games on each night, it's easy to ignore the flashing TVs overhead if you're looking for a place to chat with friends or unwind after a long day of work or classes. This is especially true during lunch hours and the summer, when most of the college crowd is either on campus or back home for a couple months.
As one Yelp reviewer excellently points out, "You know those sitcoms that are set in a cute little suburban town where everyone goes to eat and drink at a neighborhood bar? That is what the Boulevard is like, except with MTSU students."
So if you're looking to establish a new weekly hangout spot with friends or just looking for a place to catch the Preds game, the Boulevard is one of Murfreesboro's top contenders.
A few things to know before you go:
Happy Hour is offered Monday through Friday from 3 to 6 p.m.
The Boulevard is family-friendly and offers a kids menu for those under 12.
Half-price pizza is available on Sunday nights. The 12-inch pizza is enough for two people, with some left over.
While I've never had to wait for a table, seats begin filling up after 6 p.m. during the week, especially on Monday nights and important game days.
The Boulevard allows pets on the patio during certain hours throughout the summer.
The Dish:
Boulevard Bar and Grill
2154 Middle Tennessee Blvd.
Sunday–Thursday: 11 a.m.–11 p.m.; Friday–Saturday: 11 a.m.–12 a.m.
(615) 624-8002
Specialty salads: $10–12; Sandwiches (BLT, pulled pork, tilapia): $9–11; Tacos and quesadillas: $10–12; 12-inch pizza: $15; Burgers: $9–12
boulevardmurfreesboro.com