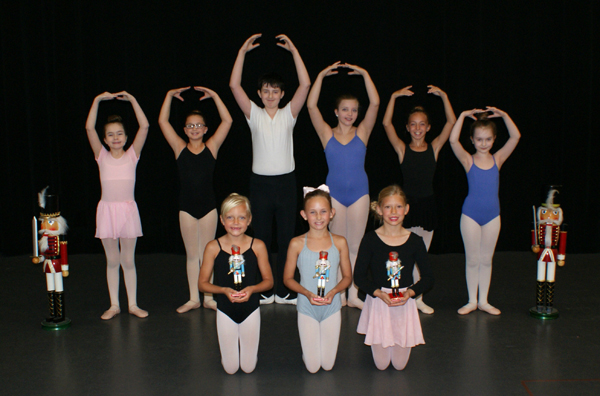 Nashville Ballet has selected 15 dancers from Murfreesboro to perform in the youth cast for Nashville's Nutcracker: Celebrating 10 Years!, running Dec. 2 through 23 at TPAC's Jackson Hall. This year's youth cast marks the organization's largest to date, with 296 dancers from School of Nashville Ballet and the community at large performing alongside Nashville Ballet and the Nashville Symphony in the local holiday favorite.
Nashville's Nutcracker will feature the following young dancers from Murfreesboro: Lydia Rose Burks and Vivian White as a frontier soldiers; Samantha Everett, Maddy Dare Grubb and Amelia Laney as garden fairies; Gabriel Holt as an infantry soldier; Ysabella Holt as a lamb; Emma Sharpe and Heidi Smith as mice; Grace Laney and Arabella Smart as cavalry members; Madilyn Rigsby as a Russian nesting doll; Jaidyn Smart and Kaylee Schmidt as bon bons; and Emma Thornhill as a dancing bear cavalry member.
This year's Nashville's Nutcracker youth cast members were selected from community-wide, open auditions. They will perform alongside all 54 members of Nashville Ballet's professional dance company and second company along with 60 members of the award-winning Nashville Symphony performing Tchaikovsky's celebrated score.
"We've had more than 1,000 young dancers in the Nashville's Nutcracker youth cast since the production's debut 10 years ago," Nashville Ballet artistic director & CEO Paul Vasterling said. "The size of the youth cast has grown by leaps and bounds over the years, so this year we're debuting a brand-new role, the Dancing Bear Cavalry, which allows us to welcome even more young dancers on stage."
In addition to the debut of the new youth cast role, Nashville Ballet is celebrating 10 years of Nashville's Nutcracker with more all-new elements—including snow falling on the audience during the iconic snow scene. Nashville Ballet premiered The Nutcracker in 1989, but the production was reinvented as Nashville's Nutcracker in 2008 with a unique concept incorporating Nashville's vibrant past along with new choreography, sets, costumes and onstage magic tricks. Since then, Vasterling's original spin on the classic has cemented its place as one of Music City's most beloved holiday traditions.
Beginning at the 1897 Centennial Exposition in Nashville, Clara and her Uncle Drosselmeyer meet a colorful cast of characters from faraway lands. When Uncle Drosselmeyer gifts Clara with a wooden nutcracker on Christmas Eve, the toy magically comes to life as a handsome prince and leads her through a remarkable adventure. Clara visits everyone from the Snow Queen to the Sugar Plum Fairy, including the spellbinding characters she met at the Exposition. When Clara finally returns home, the audience is left to decide if it was all just a dream—or not.
For tickets and more information on Nashville's Nutcracker, visit nashvilleballet.com or call (615) 782-4040.