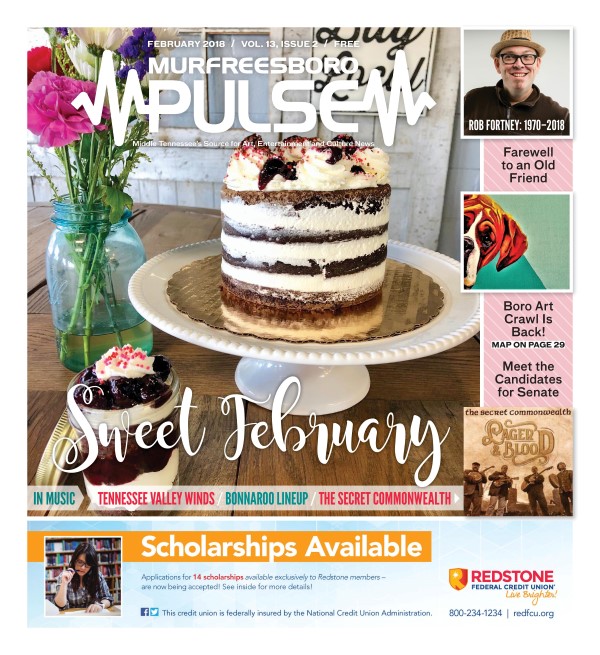 FEATURES:
Heart of Vinyl
Local couple takes a mobile record store on the road.
The Den 3030
A Murfreesboro organization transforms youth into courageous lions.
Farewell Rob Fortney
Former Murfreesboro entrepreneur and Pulse supporter dies in Thailand.
Boro Art Crawl
Feb. 9 event features Dragon Dance, pet paintings, Chinese art and more.
Land of Fire and Rice
A look at Murfreesboro's hibachi restaurants.
Meet the Candidates for U.S. senate
Blackburn, Bredesen and Fincher are running for office.
IN EVERY ISSUE:
Events
Princess Night, Mardi Paws, Soups for Smiles, Western Horse Show and more
Sounds
Local Concerts
The Katies; Perry;The Hardin Draw; and more
Music Notes
The Justin Reed Show
Tennessee Valley Winds
2018 Bonnaroo Lineup
Album Reviews
Allison Young
The Secret Commonwealth
Living
Gardening
Are Farmers and Gardeners Environmentalists?
Recommended Reading
Ecce Deus: Essays on the Life of Jesus Christ
Ch. 1 – The Holy Thing
Art
Cody Hale at Arts Center of Cannon Co.
Poetry
Poetry in the 'Boro, Feb. 11; America the Beautiful exhibit, Spoken Word
Movies
Reviews
The Post
The Shape of Water
Living Room Cinema
Sore Thumb Adventures
Food
News
Business Buzz
Sami's Brick Oven Pizzeria, Pho Viet and more
Modern Library
Rutherford County Library System now offers much more
Opinion
Live . . . Well!
Lasting Impressions
Views of a Conservative
Republicans propose DACA deal
The Stockard Report
Reeves Wins Primary
Sports
MTSU Sports
Men's basketball team leads conference
Sports Talk
NFL Silences "Please Stand"; Titans name Vrabel new head coach