Dining at hibachi restaurants is more than a meal; it's dinner and a show, complete with banging knives, flying vegetables and the occasional grill-to-ceiling flame.
Teppanyaki chefs prepare food on a hot griddle in front of a group of about six to ten dinner guests. Throughout the meal, the chef might juggle spatulas, flip a shrimp tail into his shirt pocket, toss an egg in the air or arrange onion rings into mini "volcanoes." And from my observation, adults admire the spectacle just as much as younger dining guests.
Due to the popularity of the cuisine, Murfreesboro supports a hibachi restaurant on four of the city's busiest streets: just off Memorial Boulevard, Old Fort Parkway, Thompson Lane and Church Street. For those in a rush or wanting a more casual dining experience, Koji Express has added a second location on Franklin Road.
In addition to hibachi lunch options, each restaurant offers three tiers of hibachi dining: single entree, combination and special. All are served with a cup of soup, salad, vegetables, a couple pieces of shrimp and choice of fried rice or noodle. With hibachi entrees, you choose one meat (chicken, steak, shrimp, Mahi-Mahi, lobster, salmon . . . the list goes on), tofu or vegetable only, while combination and special entrees allow for customization.
Oftentimes chefs will not begin cooking until most seats are filled, but the soup and salad serves as a nice appetizer while waiting. If not everyone in your dinner party wishes to order off the hibachi menu, the restaurants below (excepting Koji) also serve Chinese and Japanese dishes, such as sushi, General Tso's chicken, lo mein and more. Just be sure to ask your server for the full menu when seated.
___
Samurai's Cuisine
451 N. Thompson Ln.
samuraiscuisineboro.com
Samurai's is located right off Thompson Lane next to Chipotle. At night, the restaurant's sleek, modern interior is a nice spot for a date night or birthday dinner. However, dining hibachi for lunch is a great way to save money, as the prices of most entrees are cut in half. Hibachi specials include sea and land pairings like filet mignon, chicken, shrimp, lobster tails and scallops.
Lunch (11 a.m.–3 p.m.): $6–14
Dinner entree: $12–32
Combination: $20–29
Special: $28–67
___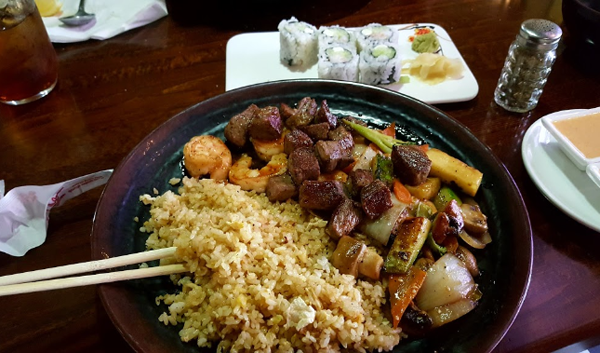 Cathay Asian Bistro
1845 S. Church St.
cathaytn.com
At Cathay Asian Bistro, hibachi is only a small portion of what the restaurant has to offer. Along with traditional Chinese and Japanese dishes, Cathay also features all-you-can-eat sushi, a meal reserved for adventurous spirits with a substantial appetite. As for hibachi dining, choose anything from chicken (regular and spicy) and steak (filet mignon, New York, ribeye) to shrimp, salmon, scallops and lobster tail. From there, you can either combine entrees or order the dinner-for-two special, which comes with two glasses of house wine or beer.
Lunch (11 a.m.–3 p.m.): $7–15
Dinner entree: $11–30
Combination: $20–27
Special (chef's special, dinner for two): $24–70
Kids hibachi (chicken, steak or shrimp): $8–9
___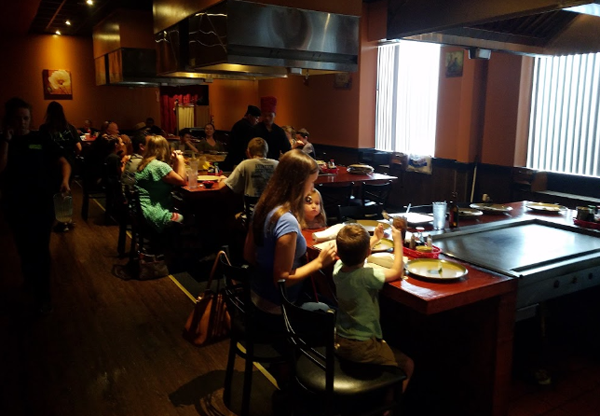 Wasabi Japanese Steakhouse
2812 Old Fort Pkwy
wasabimurfreesboro.com
Just like Cathay and Samurai's, Wasabi offers similar hibachi dishes for lunch and dinner, with the addition of red snapper and tuna. The restaurant also features about 25 different combination choices compared to the typical 10 to 15 at other restaurants. Although the menu boasts more choices, the hibachi dining area isn't as spacious as others on this list. This might result in longer wait times on a particularly busy night.
Lunch (Mon.–Fri.: 11 a.m.–2:30 p.m., Sat.–Sun.: 11:30 a.m.–3 p.m.): $6–16
Dinner entree: $11–29
Combination: $17–26
Special (chef's special, dinner for two): $29–60
Kids hibachi (chicken, steak or shrimp): $6–7
___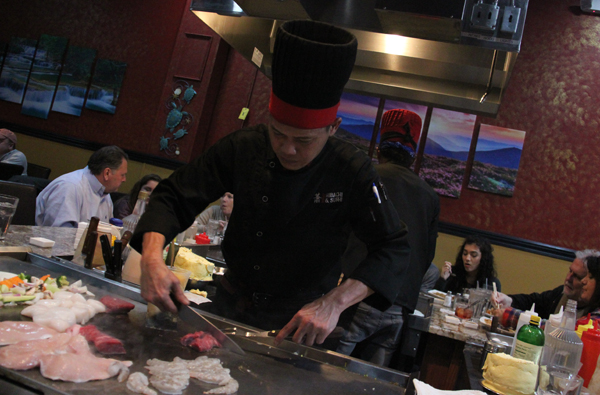 Xiao's Hibachi and Sushi
149 Wendelwood Dr., Suite B5
xiaoshibachisushi.com
Murfreesboro's newest hibachi restaurant is located in the recently developed Shoppes of Northgate (Sprouts, Newks, Uncle Maddio's). In addition to hibachi dining, Xiao's offers sushi, shrimp tempura, pork or vegetable gyoza (dumpling); yakitori (skewered chicken) and more. Stick with chicken, steak or seafood or try a combination for a few dollars more. All entrees come with soup, salad, shrimp appetizer, hibachi vegetables and choice of white rice, noodles or fried rice.
Lunch (11 a.m.–3 p.m.): $7–17
Dinner entree: $12–32
Combination: $20–29
Special (chef's special, dinner for two): $26–60
Kids hibachi (chicken, steak, salmon or shrimp): $8–9
___
Tokyo Japanese Steak House
701 President Pl., Smyrna
tokyosmyrna.com
Smyrna's hibachi establishment, located just off of Sam Ridley Parkway, has earned many fans with its fun hibachi experiences featuring chicken, steak, lobster, scallop, salmon and shrimp. In addition to the exciting interactive performances around the hibachi tables, the restaurant also offers sushi, udon, sashimi and noodle dishes and other Asian favorites, and plenty of yum yum sauce, of course.
Lunch: $8.50–13.50
Dinner: $11–33
Combination: $21–32
___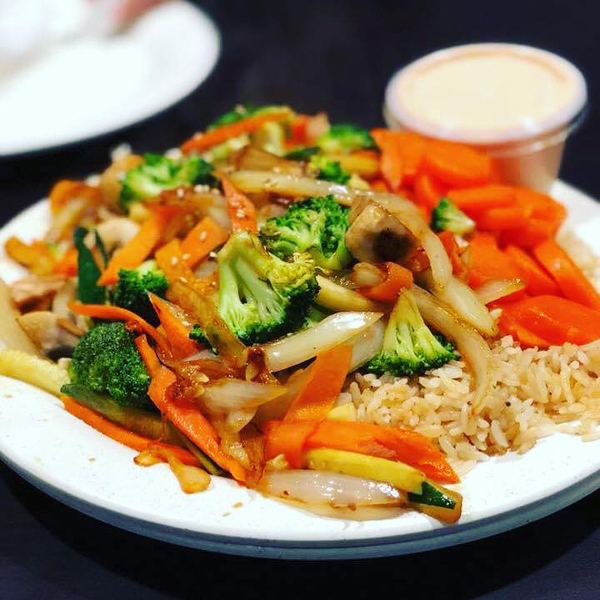 Koji Express
1010 Memorial Blvd., 3284 Franklin Rd.
kojiexpressmurfreesboro.com
Sometimes the craving strikes, but the best you can do is swing by the drive-thru at Koji Express. Here, all entrees come with fried rice, sweet carrots and a small cup of Koji sauce (similar to mayonnaise-based Yum Yum sauce). While you can't order salmon or lobster here, you can choose between chicken, steak, shrimp or scallops at what Murfreesboro diners describe as "fast-food hibachi."
Entrees: $7–11
Combination: $12–14