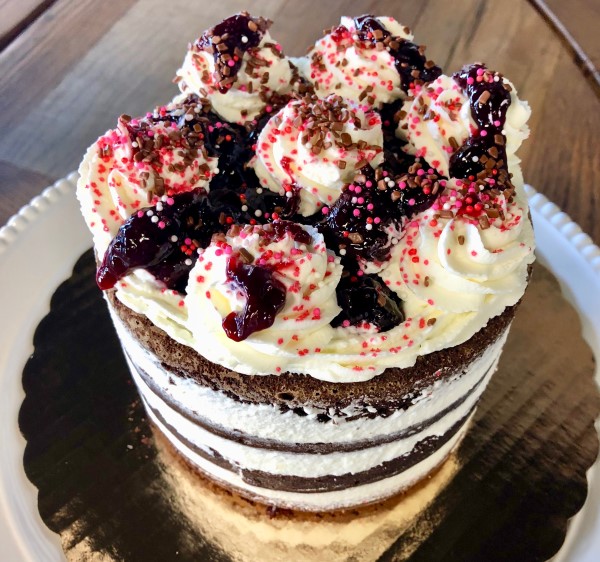 Happy Valentine's Day! Looking for something sweet and easy to make for your sweetest, or a different treat to pass out as a gift? Look no further! This Black Forest Cake is easy and packed with flavor.
Black Forest Cake
1 chocolate cake, your favorite recipe or boxed (I recommend Duncan Hines if taking the box route), divided into as many layers as you would like
Simple White Chocolate Mousse
6 ounces white chocolate
1 ½ cups heavy cream
Gently melt chocolate with ¼ cup heavy cream in the microwave. Heat for 30 seconds, stir for another 30 seconds until just melted. Allow to cool slightly. Whip remaining cream until soft peaks form. Add cooled white chocolate mixture and whip until combined. Refrigerate until use.
Cherry Filling
16 ounces frozen cherries, thawed, drained and juice reserved
3 ounces granulated sugar
1 tablespoon cornstarch
juice of one lemon
pinch of cinnamon
splash of bourbon (I'll let you decide how big of a splash)
Combine reserved cherry juice and cornstarch; set aside. In a small pot over medium heat combine drained cherries with sugar, lemon juice, cinnamon and bourbon. Bring cherries to a simmer. Stir in cherry juice mixture and cook until thick. Remove from heat and refrigerate until completely cooled.
Layer cake, white chocolate mousse and cherry filling as desired. Refrigerate until service.
*Make individual single-serving cakes by using glasses or 8-ounce Mason jars. Bake the cake as cupcakes and split them in half. Layer as above in the glass or jar.