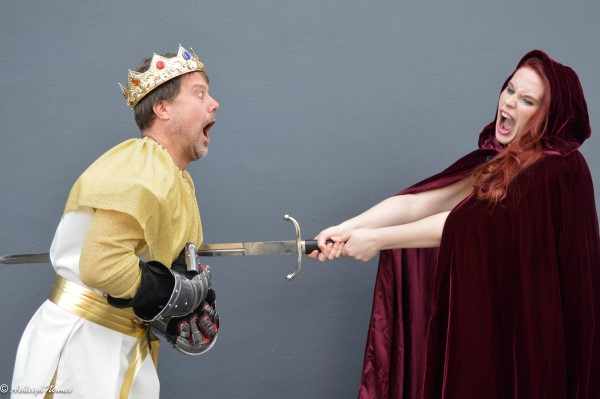 The second show of the Center for the Arts' 2018 season is Monty Python's Spamalot. "Lovingly ripped off from the motion picture Monty Python and the Holy Grail," Spamalot tells the story of the adventures and dangers awaiting King Arthur and his knights of the "very very very" round table in their quest for the holy grail.
Some of Broadway's cherished musicals are skewered along the way, including spoofs of Fiddler on the Roof, West Side Story, Les Misérables and The Producers.
Matt Smith as King Arthur leads the quest in Monty Python's Spamalot, with Haley Ray as Lady of the Lake. Seth Gregory makes his directorial debut at CFTA.
"This show also features nods to Monty Python's Flying Circus along with other Python movies," Gregory shares. "'Always Look on the Bright Side of Life' is from Life of Brian and was repurposed for this musical. The French taunters'/Frenchies' 'silly walks' came from the Flying Circus. Remarks about the swallow's plumage came from the Flying Circus' parrot sketch. Monty Python fans need to listen closely to catch all the small references present in this show."
Spamalot is rated PG-13, deemed appropriate for patrons 13 and older. Spamalot pokes fun at almost everyone and everything, and is best suited for those who are not easily offended. Shows are at 7:30 p.m. on Feb. 2, 3, 9, 10, 16 and 17, with 2 p.m. shows on Feb. 4, 11 and 18.
For tickets and more information, visit boroarts.org.