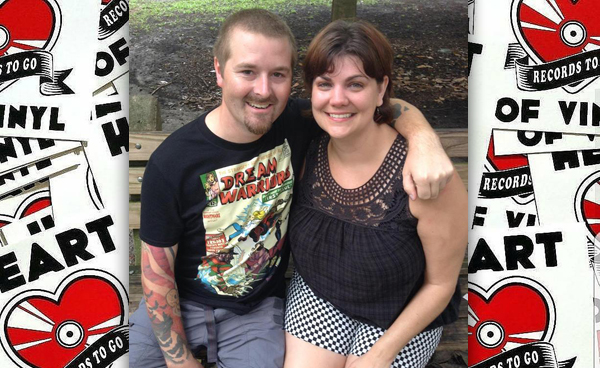 Murfreesboro record collectors haven't had to travel far when looking to add to their collection. Antique and thrift shops, chain retailers and local record stores like Waxface Records, Media Rerun and the now-defunct Little Shop of Records have supplied the local community with music on vinyl.
However, brick-and-mortar businesses are not the only places capitalizing on the continuing surge of vinyl sales. Last summer, Justin and Megan Frazier became part of a growing retail trend of "pop-up shops" when they hauled hundreds of records to various breweries and taprooms in the region.
Heart of Vinyl began as an occasional pop-up record store at breweries in Murfreesboro, Franklin and Nashville. Now the Fraziers are adding places like Asheville, North Carolina, and Hopkinsville, Kentucky, to the list.
Justin says he started Heart of Vinyl as a way to monetize his obsession, but he wanted to do so without the demands of leasing a physical location. The element of surprise that comes with owning a pop-up store keeps things exciting for both him and his customers, he says.
"When we go and set up at breweries and taprooms, people are surprised to see a record shop off to the side," Justin explains. "I always get the response of, 'I was not expecting that,' or 'You're going to drain my wallet.' We're only set up for a few hours and then we're gone. It keeps things exciting."
In addition to setting up shop on Saturdays, Justin posts photos of records, along with each album's catalog and pressing information, on the Heart of Vinyl Facebook and Instagram pages. While most of his business stems from in-person purchases, Justin eases the minds of people buying through social media by testing each record before posting.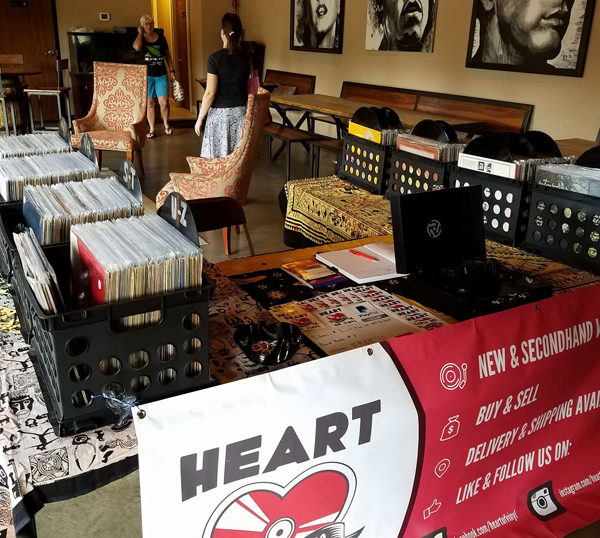 The Pulse recently caught up with Justin to discuss Heart of Vinyl's first year in business.
Murfreesboro Pulse: How did Heart of Vinyl come to be?
Justin Frazier: I had the idea of doing a pop-up record shop for a couple years. There are some other people I've seen around that have this kind of thing at a street fair or something like that. So the idea was on my mind, but I haven't really seen anyone doing it the way that I'm doing it.
Going back to the beginning, how did you go about starting your vinyl collection and how long have you been a record collector?
I've been collecting since I was a child, probably around 10 or 11 years old. A lot of the Frazier side of my family are musicians. I grew up around my grandfather who had a bunch of records, as well as my dad. I was from a musical home, and there was always music playing or people coming over to play music. I kind of gravitated towards the albums that I saw lying around.
It just kept on going from there and turned into an obsession, and that's kind of where the business took off. I decided to try it to turn the hobby into something that's lucrative so I can make a little money, too, instead of always spending it.
You also play in the band Frazier & Company, right?
That's our family band. Frazier & Company is myself, my brother, Brad, my father, Mike, and my grandfather, Horace. Everyone has played music since they were children. The company part of the Frazier & Company is some friends of mine and my dad. I got my start playing drums by sneaking behind a drum set back in the day when my father's band wasn't practicing. It stuck with me, and I'm still playing now 20-something years later.
Back to the business, what are the benefits of having a pop-up record store as opposed to a brick-and-mortar shop?
During the day, I also work at my family company, Frazier Electric, so I understand what it's like to have a small business and the things that come with owning a brick-and-mortar location: rent, mortgage, those sorts of expenses. So that translates into me being able to control the pricing of the records and not have to charge $40 for every single record that comes through.
Right now, about how many records do you normally take to events?
I try to stock those full of the most diverse stuff that I have but also things that I know are going to make the biggest impact with people. I do carry some more obscure items like underground hardcore bands and things like that. But since I can only carry a certain number of crates, I try to get the most bang for the buck. So it's a lot of names like David Bowie, Fleetwood Mac and Run DMC … the heavy hitters in music. And then I do keep some obscure things to surprise people here and there.
Do you have any advice for people who are thinking about collecting?
I'd say don't believe too much of the hype surrounding the prices on rare albums. Prices can be subjective and something that you think is worth $100 is worth $500 to someone else. Also, focus on collecting what you like, not just what you think you should have in the collection. That's the fun part about finding records that are special to you. It doesn't matter if they are popular or not. What's fun is digging through crates and finding those little hidden musical gems, as well as discovering bands that you've never heard of.
That's what kept me collecting records my whole life and what pushed me to start this business. I just love records and music, but it's also a community thing. The vinyl community has gotten larger over the last five or six years with the explosion of vinyl sales, which is nice, but even when that slows down, records aren't going anywhere.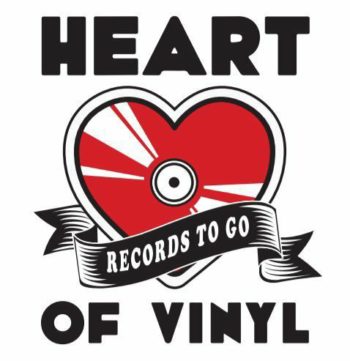 I love asking record collectors about favorite albums in their collection. What are some of yours?
I've got a really cool copy of a Metallica record that I found when I was in Germany. It's called Garage Days, and it's a really cool pressing on a green translucent vinyl. I don't get into collecting and selling really rare or obscure items. That carries over to the business because I like to sell copies that are in good condition but also something that people can afford to buy on the spot.
Check out where Heart of Vinyl will be this month:
Where: Mad Knight Brewing, Chattanooga, Tennessee
When: Feb. 3 at 3 p.m.
Where: Hopkinsville Brewing Company, Hopkinsville, Kentucky
When: Feb. 10 at 2 p.m.
Where: Bearded Iris Brewing, Nashville
When: Feb. 17 at 2 p.m.
Learn more at facebook.com/heartofvinyl