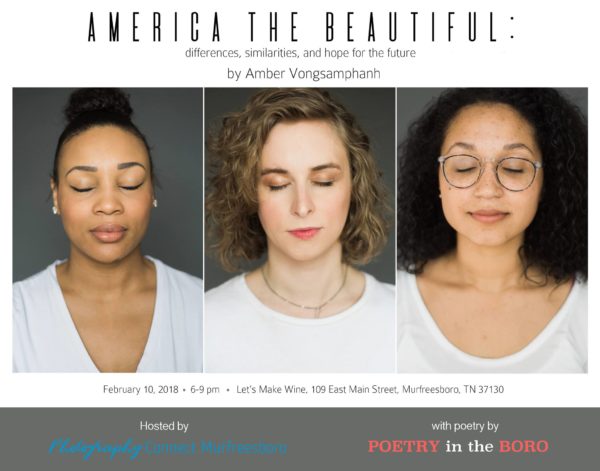 April is National Poetry Month, but there are so many poetry happenings in Murfreesboro this February that it appears our city may be celebrating early. Attend one or more of these events in support of area poets, or consider adding your voice to the opportunities mentioned below.
In a show that challenges the concept of "other" and seeks to discover how women of various colors, ethnicities, religions, gender identities and other labels are more similar than different, America the Beautiful: Photography by Amber Vongsamphanh will be on display at Let's Make Wine, 109 E. Main St., from 6–9 p.m. on Saturday, Feb. 10. Invited poets will give short readings on themes of beauty, the body, feminism, diversity and connectedness at 7 and 8 p.m. Organizer and Murfreesboro photographer laureate Jessica Goings Nelson says that while all ages are welcome, readings could involve mature language or subject matter; those with children may want to attend earlier in the evening.
On Sunday, Feb. 11, Poetry in the Boro will be held at Murfreesboro Little Theatre, 702 Ewing Blvd. Open mic signups start at 6:30 p.m. Featured poets Kerri French and TJ Jarrett will read at 7 p.m. French, a Murfreesboro resident and academic advisor at MTSU, is the author of Every Room in the Body (Moon City Press, 2017), winner of the 2016 Moon City Poetry Award. Her poems appear in numerous literary journals, including Best New Poets and The Southern Poetry Anthology.
Jarrett, a Nashville writer and software developer, is the author of two poetry books, Ain't No Grave and Zion. Winner of several awards and fellowships, she's the recipient of the 2017 George Garrett New Writing Award by the Fellowship of Southern Writers. An hour of open mic follows a brief reception and book signing time; find more details at facebook.com/poetryintheboro.
The MTSU Todd Art Gallery hosts a Spoken Word Performance and Video event on Saturday, Feb. 24 from 11 a.m.–2 p.m. Designed to complement the gallery's Literacy Within Reach exhibit, which runs Feb. 17 through March 9, the event will present performance, text and spoken word as they relate to both past and present socio-economic inequities. The MTSU Department of Art and Design is calling for proposals from students as well as emerging and established artists for the event through Feb. 11. Find more details at mtsu.edu/art.
Another opportunity for writers of all ages is the We Are Tennessee project. In April the Discovery Center will open this exhibit that explores concepts of cultural identity and what it means to be a Tennessean. Students and adults are encouraged to interpret the concept of identity in their own terms. Visual art, multimedia and poems or short prose will be included. Learn more at bit.ly/wearetn. The submission deadline is March 23, but why wait? February is going to be a creative month in the 'Boro.
"And to the republic for which it stands"
by Caitlyn Osborne Parris
kinesis
catharsis
why did we arm this?
binary system
churns out extremes
leaving us with a lack
of means
for any real(ity)
change, so
we wage(r)
war
against the Other
you never win
cause in the end
we're less enemy,
more kin.
Barren to Beautiful
by Rhonda Weaver
I am empty and barren,
waiting to be filled—
standing before you, Lord,
quiet and still.
I am wounded and weary.
I can't take another step
until I hear from you. Please
come to me and help.
Only you can make me better,
give me rest for my soul,
mend the broken pieces
from shattered to whole.
I believe your promises
to heal me through and through—
from barren to beautiful
a masterpiece for You.
–––
Caitlyn Osborne Parris and Rhonda Weaver are among the local poets who will be reading at the America the Beautiful exhibit.