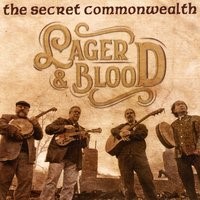 The Secret Commonwealth is surely a band name you have heard at some point around Murfreesboro over the years. The Irish/Scottish folk band has been a staple in the Middle Tennessee area since then-MTSU students Troy Guinn, Jack Hunter Daves Jr. and Rob Campbell founded the group back in 1993. After two and a half decades of Celtic tunes, live performances, lineup changes and the passing of Daves, the group is still going strong as a five-piece. Guinn, Campbell, Uncle Don Clark, Franko Hashiguchi and Vicky Plant make up The Secret Commonwealth nowadays, with Lager & Blood marking the band's fourth album.
The band has developed a repertoire of original tracks and covers throughout the years, and Lager & Blood features a collection of traditional folk tunes. The result is a feelgood romp that will transport you to the shores of Éire, or at least into a pub for a St. Paddy's Day bash.
All 15 tracks capture the spirit of their centuries-old Irish and Scottish origins, feeling fresh to the ear, though some stand above the rest. On the leading cut, "The Leaving of Liverpool," the Secret Commonwealth takes the somewhat sad sea shanty about a farewell journey and turns it into a celebratory send-off. The song's organic instrumentation puts the listener in the ideal headspace for the rest of the album.
All of the drinking cuts on the album fall in a similar vein. "Johnny Jump Up," "Streams of Whiskey" and "The Old Dun Cow" are immensely fun and make you want to grab a pint.
The slower ballads serve as welcome contrasts to the more lively moments. "The Earl of Moray" is a sweeping, sorrow-filled Scottish murder ballad that breaks up the stream of upbeat numbers at the beginning of the record. The a cappella "St. James Infirmary" concludes the album in an unexpected way. One might think The Secret Commonwealth would go out on a celebratory note, but the song is somber and serves as an introspective cool-down that works better than might be expected.
Due to the nature of the album's recording (live in-studio, with two actual live tracks), Lager & Blood truly captures the spirit of a Secret Commonwealth show. If you like Celtic tunes, or even just want to broaden your musical scope, this album is one to try out. At the very least, it's perfect to put on as we ease closer to St. Patrick's Day
Lager & Blood is available on Spotify and other online platforms.