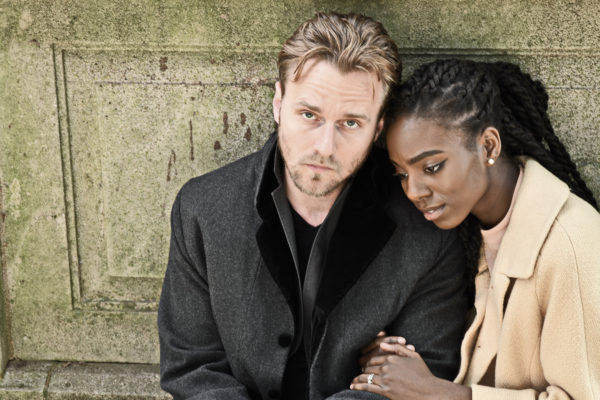 The Nashville Shakespeare Festival now heads into its fourth decade of producing Shakespeare for the Mid-South community. The 30th Anniversary Season kicks off with Hamlet, Shakespeare's most famous work. Artistic Director Denice Hicks directs this intimate production that takes a journey into the minds and hearts of the royal family of Denmark in its darkest time. Prince Hamlet is torn between two unbearable situations: either living with his father's murderer or committing murder himself.
MTSU's Tucker Theatre hosts Hamlet Feb. 1–3, following a January run at Belmont University.
"The Hamlet cast is the strongest ensemble we've ever assembled," says Artistic Director Denice Hicks, "It's marvelously diverse with regular NSF favorites and many new faces."
Two of the traditionally male roles in the play are being handled by women. Horatio, Hamlet's best friend, will be played by Melinda Paul, and Lauren Berst will play Marcellus. Of the gender-bent casting, Hicks says simply, "They were the best actors for those parts."
Making his Nashville theater debut in the title role is Sam Ashdown, a film and stage actor who boasts an impressive résumé, having performed with companies across the country. Also a stand-out among the cast is Cheryl White (Gertrude), a Los Angeles transplant who has over 60 TV shows under her belt, including Major Crimes and Resurrection. The rest of the cast includes: Chelsea Bell (Ophelia), Roger Csaki (Claudius), Ethan Jones (Polonius), Audrey Tchoukoua (Laertes), Brian Russell (Ghost), Shawn Knight (Bernardo/Osric), Andy Kanies (Rosencrantz) and Santiago Sosa (Guildenstern).
Enhancing the story and creating the emotional atmosphere for the play will be an original score composed and played live by Natalie Bell and Jack Kingsley. Emerging artist Sam Lowry designed the set and projections that will take the audience into each location in Elsinore, from graveyard to castle battlements to the great hall. Costume designer Jessica Mueller will dress the court in timeless elegance using a royal jewel tone palette that will contrast with Hamlet's black attire. Lighting design is by Anne Willingham and fights are choreographed by David Wilkerson.
Performances at MTSU's Tucker Theatre will begin at at 7:30 p.m. Thursday through Saturday, Feb. 1–3. Tickets are $29 in advance or $32 at the door. For tickets and more information, visit nashvilleshakes.org.
Other upcoming Nashville Shakespeare Festival projects include a special "Bard's Birthday Bash" on April 23 in collaboration with Vanderbilt University, and the annual Shakespeare in the Park in August and September 2018 at Nashville's Centennial Park.