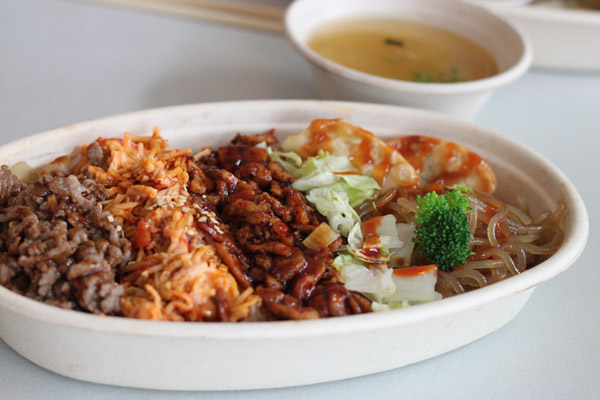 Another slightly hidden gem of the eclectic Murfreesboro dining scene, Cup Pop, sits in a shopping center alongside University Package Wine and Liquor and empty units formerly housing a hookah lounge and a textbook store, just across from MTSU.
This is just far enough from Middle Tennessee Boulevard, and sufficiently blocked from view by the Smoothie King, that those hurrying to and from the MTSU campus may not notice the small Korean eatery, even after passing by the area time after time.
But word has begun to spread around town that Cup Pop is well worth trying out.
Diners who have discovered this fabulous little cafe have overwhelmingly positive things to say about Cup Pop and its take on Korean barbecue, or bulgogi.
"This is legit Korean food. Good stuff. Like Momma used to make (mine is Korean)," Roy Denney posted after trying out Cup Pop.
Many others have made Cup Pop part of their local dining rotation and have been recommending it to friends.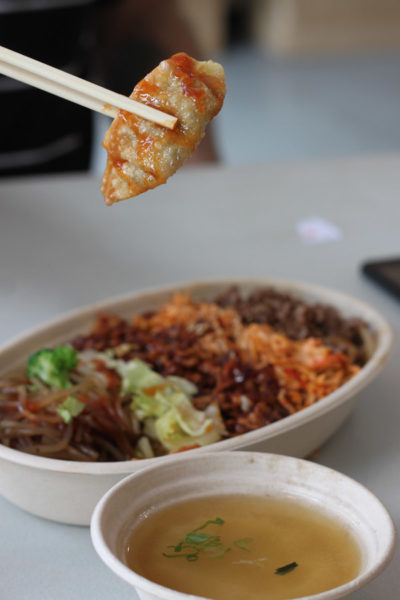 "I'm done with my quest to find good Chinese food, I'm just going to eat Cup Pop Korean when I feel like Asian food," CaMillia Banks commented. "The menu is simple and the restaurant is clean. The owner is the sweetest lady ever!"
Cup Pop's signature dish, Bulgogi, is Korean-style marinated beef.
The beef has a complex combination of flavors, and a little sweetness accompanies the spices.
I ask Suk, who has made many friends while helping the people of Murfreesboro discover Korean barbecue, what I am tasting in the juicy beef alongside the soy and sesame flavors: cinnamon, nutmeg, ginger . . . ?
"A little of everything," she says, smiling.
The spicy bulgogi, aside from packing more heat, is a different product altogether; this is the restaurant's take on pork barbecue.
"I love the spicy bulgogi," Eva Hunter commented, calling Cup Pop her new favorite restaurant.
I imagine Korea has its different camps of barbecue enthusiasts, the pork people and the beef eaters, just as Texas-style or Memphis-style barbecue eaters will each insist that beef, or pork, is "true" American barbecue.
Cup Pop additionally offers a breaded chicken dish and a seafood Cup Pop.
If you can't make up your mind and have to choose between these delicious items, the combo has small portions of three different Cup Pop dishes: the bulgogi, spicy bulgogi and seafood.
The three meat selections sit atop a portion of fried rice, and a small side of cool noodles with a zesty sauce accompanies the dish, as do two of the pan-fried dumplings, or gyoza.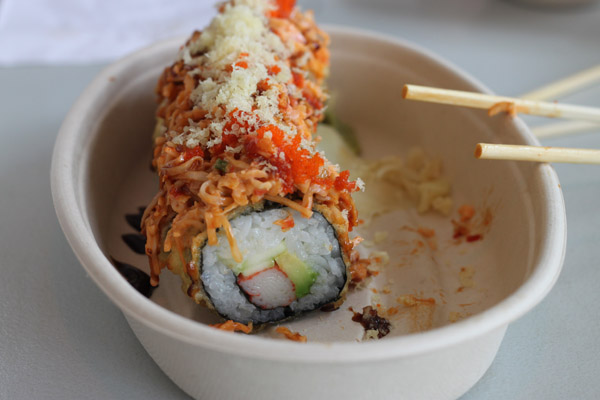 Cup Pop offers a sushi roll, which contains crab and avocado, deep fried and topped with the same seafood mixture that is featured in the seafood Cup Pop dish, and roe.
These come in compostable paper bowls, a plus for those who do not like to fill up a trash can with styrofoam after a single meal.
The Cup Pop menu does not contain a huge number of selections, but another interesting item is the fried rice omelette, stir-fried rice with vegetables wrapped in egg.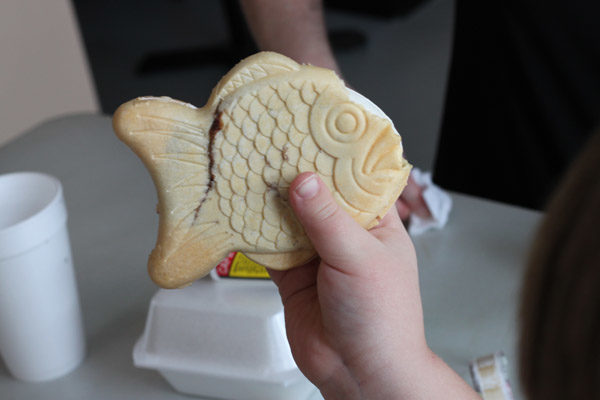 A freezer next to the register contains a few frozen treats—even some uncommon ones like Samanco, a fish-shaped ice cream treat, sweet corn ice cream sandwiches—and the drink choices include melon- or banana-flavored carbonated drinks.
Another local diner, Glyn Crossno, calls Cup Pop a "nice hole in the wall" and recommends the kimchi, if it is available.
Other comments commonly contain the words "delicious" and "yummy," and Cup Pop patrons also frequently say how nice the lady behind the register seems.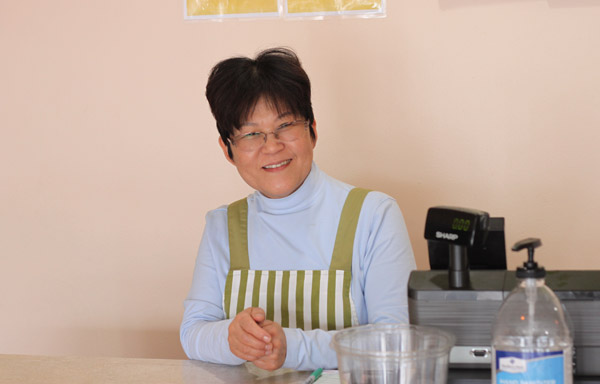 This is Suk, who says she has lived in Murfreesboro for 25 years but just opened Cup Pop in 2017. Suk tries to keep the restaurant very clean, wiping down tables as soon as possible after patrons exit.
The Cup Pop portions compare very favorably to many of the Thai and other Asian restaurants in town, but some others who have an appetite that only a buffet can satisfy say they would like to get a bit more for the price. Still, that is one of the few complaints about this small restaurant offering very flavorful dishes.
"It's absolutely fantastic," Christopher Davis said of Cup Pop. "This place is one of the best in Murfreesboro, hands-down, and I'll be doing my part to help them stand out in this boring-corporate-chain-restaurant-dominated town."
The Dish
Cup Pop
2832 Middle Tennessee Blvd.
Monday–Saturday, 11 a.m.–8 p.m.
615-546-4157
Spicy Bulgogi, Chicken Katsu or Seafood Cup Pop: $7.95; Bulgogi Cup Pop: $8.95; Combination Cup Pop: $9.95; Edamame: $2.95
facebook.com/cuppop.korea