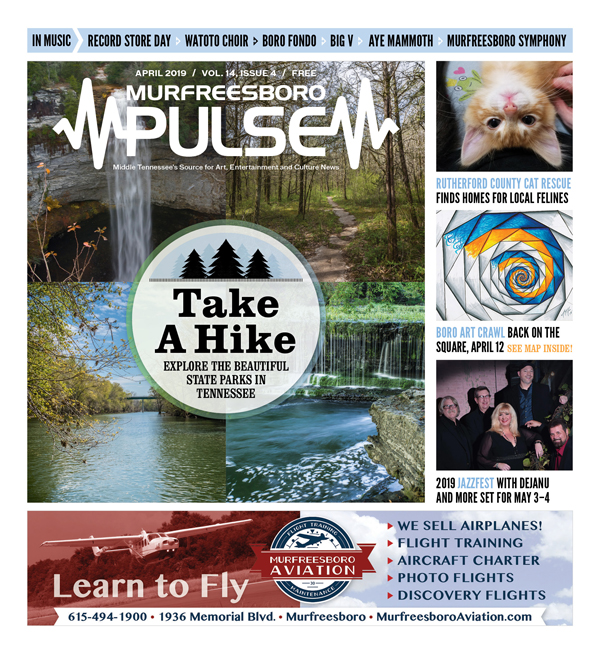 Features:
Main Street Jazz Fest
May fest includes Jennifer Bruce and DejaNu, Cosmic Collective, May 3–4.
Take a Hike!
Explore the beautiful state parks of Tennessee, many a short drive away.
ilovekickboxing
High-energy workout routines and instructors keep you motivated.
Oakland Court Upgrade
Redevelopment proposed for local public housing neighborhoods.
Cats for Keeps
Rutherford County Cat Rescue finds fur-ever homes for felines.
Eagle Communication
Entrepreneur Ron Young helping business connect.
In Every Issue:
Events
Community Events Calendar
Special Kids Golf Tournament, Photo Connect Contest, Boro Adventurefest, Easter Egg Hunts and more!
Sounds
Concerts
Prince Tribute, Jackson Harrison, Embassy, Mixtape, Jewel Machine, Sarah Martin and more!
Music Notes:
Album Reviews:
Living
Gardening
The yield increase of composting
Art
Hodges Exhibit at New Patterson Park Gallery
Patty Carroll Photos at Baldwin Gallery
Theater:
MTSU Spring Showcase
"Spring Awakening," Runway Show, Wing Fling, songwriters night
Rutherford County Hot Chicken and Art Show
Poetry
April is National Poetry Month
Movies
New Releases
Penguins, The Public, Shazam! and more!
Food
Restaurant
Slick Pig
News
Business Buzz
Murfreesboro Armory, Steakhouse Five, Crumbl Cookies, The Great Escape and more.
Sports
Sports Talk
Titans sign Cameron Wake, Ryan Tannehill; Predators set for playoffs
Opinion
Phil Valentine
Many media outlets disappointed in Mueller report
Live Exceptionally . . . Well!
A Higher Purpose
Spiritual Matters
Resurrection Season
Recommended Reading
Ecce Deus: Essays on the Life and Doctrine of Jesus Christ