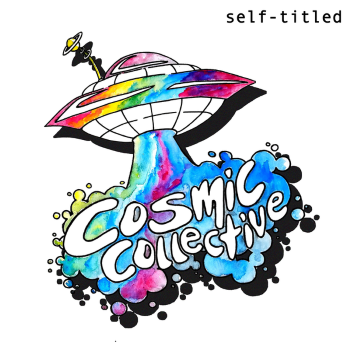 The "interstellar" jazz group known as the Cosmic Collective is coasting behind a new album called Self-Titled, a record filled with an eclectic array of innovative sounds. These atmospheric rarities are dreamy fusions of electronica, lo-fi, trip-hop and jazz. Things get wildly complex, but it's almost impossible not to feel the down-to-earth demeanor of the band emanating from the recordings. These characteristics melt into the trippy visage of a band on the edge of making an even stronger name for itself. Strap in and try to keep up with the groove.
The group of experienced musicians known as the Cosmic Collective creates music that defies the laws of traditional jazz. Members include Nikki Elias, Tyler Enslow, Devante Buford, Ashton Kimbrough, Kasey Walker, and Nico Medina. You can find them performing at venues like Rudy's Jazz Club, Mayday Brewery, 5 Spot and many other places scattered around the U.S. In fact, they just wrapped up their Wiggity Wack Tour in April. On May 4, you can see the Cosmic Collective perform at Murfreesboro's Main Street JazzFest 2019. The band's live presence is a fun, intimate experience you can't put a price on.
John Estes recorded, mixed and mastered Self-Titled in his home studio. Everything from Enslow's thumpy basslines to Medina's prolific drum fills are masterfully done. This project is a step in a slightly different direction compared to the band's 2017 release, Abstract Notions. Instead of relying on solely on moody jazz, the Cosmic Collective mixed in electronic instruments and drum machine patterns to brighten up the rare flavor they're known for. They shifted toward a new route and picked up quite a few experimental production techniques along the way. You'll hear lightly processed vocals, analog synth patches, electronic wind instruments and drum samples that sound unlike any acoustic kit around. The "otherworldly" space atmosphere couldn't be more apparent. While some jazz purists might see this as a gimmick, it's the ideal persona for an experimental jazz group.
The opening track, "Cosmic Space Chip," greets listeners with cluttered sounds, similar to what you might hear in a science fiction commercial from the mid-'80s. Shortly after, "Free Her" presents an interesting change. This song is a great example of how jazz and electronica can collide, especially toward the end of the song. The shortest moment of silence is interrupted by a relapse of low-fidelity drum loops. Later down the list, "Wiggity Wack" slides into a fun, lightweight groove. Not every song can stand on its own as a single, but they're all worth the listen within the collection.
Some tracks steer a little too far from the path, which can be hard to follow for a casual listen. Also, the album ends in an odd spot as if there should be another song or two, but undoubtedly the Cosmic Collective will continue on its own groovy path, and those unfamiliar with the group should check out the album.
The Cosmic Collective's Self-Titled is available via Apple Music and Spotify. To learn more about the band and upcoming shows, visit facebook.com/thecosmiccollectiveband.