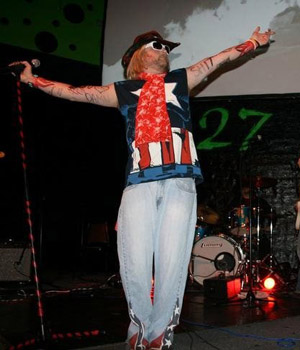 It may be pure craziness and come from the mind of a madman, a hellbilly if you will, but to Michael Renner, it's nothing more than a family reunion. And what do you have against family reunions?
The former front man for the Hellbillies (once Murfreesboro's house psychobilly band) turned lead man for his new project, Calhoun, has organized a two day, six/seven band shebang to be held at The Boro September 29 and 30 with acts well-known around the area including The Likes of Us, Dr. Gonzo, Hardin Draw, Dirty Proper and Calhoun to headline Saturday evening. Levi Massie, Billy Plant and Paige Small will ease everyone's hangover with their country notions the following Sunday afternoon.
Why would one man go to so much of the trouble to organize a festival for himself in name and spirit, you ask?
There's actually a solid reason as opposed to why hipsters pull off their ironic humor, so that isn't the case, though pulling off such an occasion with your own namesake could be considered just as hip. There's a web of family pulling together for these two days all brought on by the connections Michael Renner has formed during his musical career in Murfreesboro.
"The first band . . . Hold on. Well, we'll just start at the beginning of the lineup. Wait, we'll start at [grows introspective].  Okay, I don't know where to start," Renner says over a nice plate of freshly grilled burgers and steaming baked beans.
"We'll start with Calhoun. That's my band, now. Straight up, just a band that's put together to have some fun. We started out just playing some covers and Hellbillies songs. By the time our second show rolled around, we'd written about four songs, so now I guess we're a real band? Well, as real as I want it to be. Does that make sense? I never want to be in anything that's real damn serious. To start with, I can't sing a lick, so I'm never going to be in any band that's going to make it. [Hearty laugh]  You know what I mean. I do it for the shear fuckin' joy. I can't sing a note, but I can get a hundred people to do something stupid." He moves on to the web of Rennerfest.
"Calhoun is made up of myself and Trey Call, of the Hellbillies. This is where the whole family tree starts. Trey was in the Hellbillies. He's the only person I kept from the Hellbillies that's in Calhoun. [He and I] have been playing together for, getting close to 10 years. David Talley, the guitar player [of Hardin Draw], he plays for Calhoun, too. And Nicki Oliff, who plays accordion for Hardin Draw, she sings with Calhoun."
Renner continues, "When I first started the Hellbillies, Dr. Gonzo's drummer, Murray Gheesling, [and I] started the Hellbillies together. Nathan, who sings for Dr. Gonzo, and I were in a band that never played a show, but practiced about 10 times, […] singing girl songs (bands with female vocalists), and that band was called Smooth up Enya [he pauses for a long while]. Never played a show. We were going to wear dresses . . . but it just never happened. Between [maintaining] Gonzo and the Hellbillies, it just never happened. [Also] the guy that sings for The Likes of Us, Dave Gashaw, was one of my roommates and he helped write a couple of Hellbillies songs. We adapted the style that he was playing; definitely an influence."
And finally, Dirty Proper?
"Oh, Trey," Renner explains. "He's my guitar player. He's [also] the guitar player for Dirty Proper. Here's what's cool about this: Dirty Proper plays prissy, kind of like the Pretenders or Tom Petty, with a female vocalist. I know the Pretenders have a female vocalist, but it's like [The Heartbreakers] with a female vocalist. It's a different kind of music than Calhoun, or Hardin Draw or Dr. Gonzo does. It's kind of poppy. And about Sunday, Billy and Levi live right next door. I listen to them pick and play in the back yard all the time and Paige used to be a backup singer for the Hellbillies."
What made him want to do this?  Getting everyone back together?
"It's real hard for Calhoun to practice because everyone that's in the band has another band so you've gotta work around their schedules, so I got to thinking about it as said, 'Why don't we play a show where everybody is there on the same night. Everybody is there. Everybody gets their hour set, or however long they want. With everybody working all the time and everybody's schedule so different, it's really just a chance for [us] to check everybody else's bands. It's all there in one pile."
To promote one another such as good friends will.
It all comes full circle for the man with a plan, and surely seeing everyone getting together will be a hoot in itself outside of the rock that will ensue when they split and mingle into one another's projects that evening and following afternoon.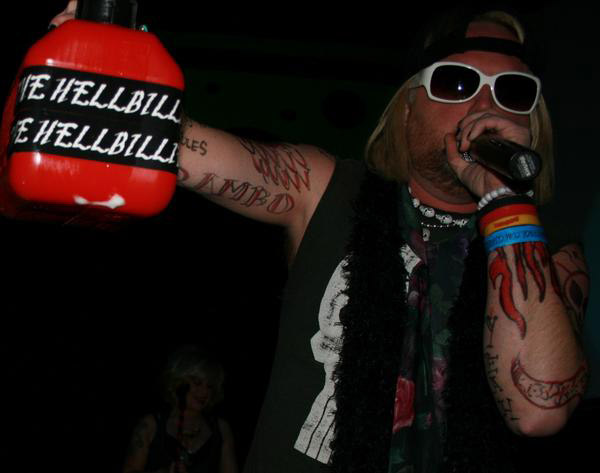 "In other words, everybody that's doing this has something to do with me in some way or another." Renner says. "Everybody's like a big family. All those bands with all those people are pretty much like one big family. Everybody says the music scene in Murfreesboro has gone to hell and you don't really have a music scene; nobody goes out or really does anything. No. We've got a damn scene of everybody just getting together. That's what we've got Rennerfest for. It's going to be like a damn family reunion; a family reunion of rowdy mother fuckers."
Rennerfest begins at 7 p.m. on Saturday, Sept. 29, and the following day will include lunch and soothing acoustical music for those returning with hungover ears. Cover at the door for Saturday night will be $5 while Sunday is free to the public. All proceeds will go to the next big idea coming out of the minds of all who are playing.
"Oh, and Lauren Wray, who's on the American Pickers TV show, is hosting Rennerfest.  She was a backup singer for Hellbillies, as well. She's hosting," Renner said.