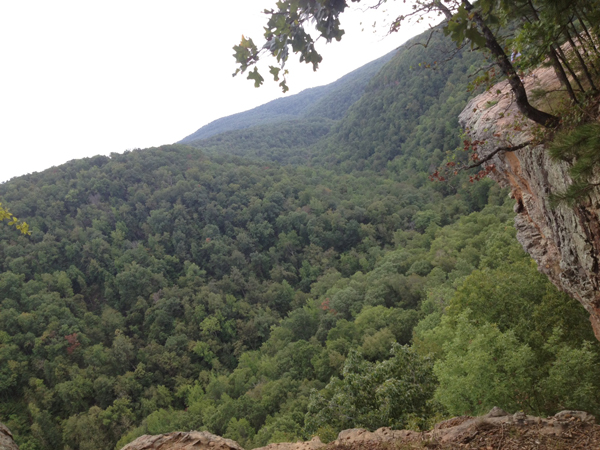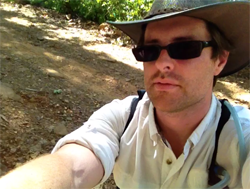 A while back I made the case for the existence of Sasquatch in an article called "Real Men Hunt Bigfoot" I promised readers a follow-up from my ongoing investigation of the phenomenon that is the subject of numerous documentaries and even reality TV shows like Animal Planet's Finding Bigfoot.
I may not have my own investigative reality TV series but what I do have is a wild curiosity for the unknown and a video camera. So a few weeks ago I traveled to Newton County, Arkansas, after learning my relatives own property in a mountainous area bordering a national park that is known to be a hotspot for Bigfoot. What I found on my solo camping adventure was eye-opening.
Wishing at first to avoid contact with locals I made camp in an isolated hollow with no cell phone service and 10 miles from any paved roads. It was prime squatching territory with a myriad of indicators that nightfall would be interesting. However, after a day of exploring, a storm forced me to move my camp early. My vehicle barely made it up the rocky hill. The rain was making the trail muddy and almost left me stranded. So I continued my search elsewhere for signs of Sasquatch.
Between hikes through the dense forest I explored the nearby community asking questions at opportune moments. Having a connection to the area helped open conversations and I was able to get a handful of witnesses to speak to me about their experiences with Bigfoot. What I uncovered was a surprise. One couple I spoke with has owned real estate in the area for 30 years. They said that on several occasions they saw a 9-foot "person" covered in hair but didn't report it. Several of their guests had also seen the creature. Two gentlemen I met at a local café said they had seen it cross the river last winter. Whenever I asked about reporting these incidents a fascinating theme emerged. They didn't fail to report out of fear of being ridiculed. Instead they believed that if the authorities were to find out, life would change.
Would recognition by mainstream science of a large primate in North America force unwanted changes on Americans? It's possible. In order to manage and protect Bigfoot's natural habitat land in many regions where Sasquatch lives could be taken using the Endangered Species Act through eminent domain as has been the case for thousands of Americans in the past. Furthermore, a beast having characteristics so similar to that of humans you might even have some trying to put it on food stamps and section 8 housing.
To make matters more interesting, it was suggested by one witness that enough photo evidence has been suppressed that if revealed it would "make a believer out of anyone."
Thus it seems the tendency on the part of some locals to avoid the topic, suppress information or simply not report sightings serves as a bulwark to change. Add to this the commercial interests like the logging industry which might be impacted. The result is a coalition of silence working against official discovery.
What I have uncovered here isn't news to the Bigfoot research community. But the public needs to know that there are many credible eyewitnesses who don't come forward because the discovery of a new species where they live isn't a good thing for them. Since I have family who could also be affected by this discovery I totally understand. Having said that, I believe the recognition of Bigfoot is inevitable and overdue but it must coincide with protection for the little guys and not just the 9-foot super-primate with night vision. They have the proven ability to protect themselves without government help or food stamps.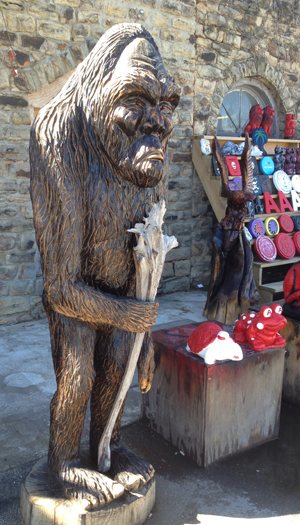 Búsqueda del Bigfoot
Érase una vez que argumente a favor de la existencia de Pie Grande en un artículo llamado "Hombres Verdaderos Cazan a Bigfoot." Había prometido a los lectores un seguimiento de mi investigación en curso del fenómeno que es objeto de numerosos documentales e incluso programas de TV como Finding Bigfoot que sale por Animal Planet.
No tengo mi propio reality  de investigación, pero lo que tengo es una curiosidad salvaje para lo desconocido y una cámara. Hace unas semanas viajé a Newton County Arkansas después de saber que mis primos tienen un terreno en un área montañosa, ubicado junto a un parque nacional que es conocido entre investigadores como una zona ocupada por Bigfoot. Lo que encontré durante mi aventura solito fue sorprendente.
Deseando al principio evitar el contacto con los lugareños yo hice campamento en un pequeño valle  aislado afuera del servicio telefonica celular  y 16 kilómetros de carreteras pavimentadas. Fue un territorio de "squatching" optimo con una gran variedad de indicadores que al anochecer sería interesante. Sin embargo, después de un día de explorar los alrededores  una tormenta me obligó a mover mi campamento temprano. Mi vehículo apenas logró llegar a la cima de la colina rocosa.. La lluvia estaba haciendo el camino fangoso y casi no transitable . Así que continué mi búsqueda en otros lugares de evidencia de Sasquatch.
Entre excursiones por el denso bosque exploré una comunidad cercana  haciendo preguntas a los lugareños en los momentos oportunos. Tener conexiónes familiares en esa área ayudó a entablar conversaciones y yo me fue posible encontrar unos  testigos dispuestos de hablar sobre sus experiencias con Bigfoot. Lo que destapé era una sorpresa. Una pareja con la cual hablé ha poseído terreno en el área durante 30 años. Ellos dijeron que en varias ocasiones vieron a una "persona" de 9 pies cubierta en el pelo, pero no lo relataron a las autoridades. Unos invitados de ellos  también habían visto a la criatura. Dos señores que encontré en una cafetería local dijeron que ellos lo habían visto cruzar el río el invierno pasado. Siempre que yo preguntaba sobre el reportaje de estos incidentes surgió un tema fascinante. Ellos no dejaron resaltar el miedo de ser ridiculizados. En cambio ellos creyeron que si las autoridades lo supieran,su vida cambiaría.
El reconocimiento por la corriente científica principal de un gran primate en América del Norte obligaría a hacer cambios no deseados a los estadounidenses? Es posible. Con el fin de gestionar y proteger el hábitat natural de Bigfoot la tierra en muchas regiones donde los Sasquatch viven podrían ser adoptadas mediante la Ley de Especies en Peligro  tal como ha ocurrido en el caso de miles de estadounidenses en el pasado. Por otra parte, a una bestia que tienen características tan similares a la de los seres humanos, algunas  personas tratarian de darle cupones de alimento y vivienda subvencionado por el gobierno.
Para aumentar el interés fue sugerido por un testigo que bastantes pruebas fotográficas han sido suprimidas ya que, de ser revelado esto "haría a un creyente de cualquiera."  De aquí, la tendencia de parte de algunos vecinos de evitar el tema, ocultar  información o simplemente no sus experiencias. Añadiendo  a esto que los intereses comerciales, como la industria de registro, que podría ser afectada, el resultado es una coalición de silencio que trabaja contra el descubrimiento oficial.
Lo que he descubierto aquí no es noticia para investigadores de Bigfoot el público debe saber que hay muchos testigos creíbles que no avanzan porque el descubrimiento de una nueva especie donde viven no es algo bueno para ellos. Yo  tengo familia que también podría verse afectado por este descubrimiento, así que yo lo entiendo totalmente. Habiendo dicho esto, creo que el reconocimiento de Bigfoot es inevitable, pero debe coincidir con la protección de humanos y no sólo el super-primate de 9 pies con visión nocturna. Tienen la capacidad probada para protegerse a sí mismos sin ayuda del Gobierno o cupones de alimento.