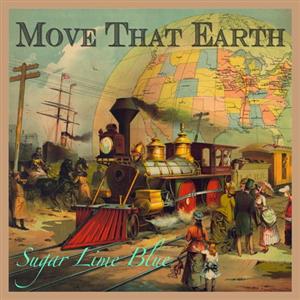 Sugar Lime Blue's well-received 2011 debut, Far From The Tree, proved their authentic songcraft, but their sophomore effort, Move That Earth, is even better, demonstrating the kind of growth and perspective good bands typically acquire as their sound naturally matures.
The seven tracks blend contemporary rock, full-bodied blues and traditional country in a truly compelling style, which can more appropriately be described as Americana music at its finest.
Ashley Beth's smooth, '70s rock-inspired vocals display impressive range with a country jaunt and are matched with a wealth of well-constructed instrumental breaks.
"Move That Earth," the album's soulful, foot-stomping self-titled opener is a resounding ode to the West and reminiscent of Elbow's "Grounds for Divorce" and The Civil War's hard-rocking track "Barton Hollow." Standout tracks include the fast-moving "When Bullets Fail" and "Dollhouse," the album's only slow-dripping ballad. In addition to the six original tracks, Sugar Lime Blue says farewell with its earthy pop cover of Melanie's '70s hit "Brand New Key," which the band covered last year as part of its "#sundayshoutout" cover series on YouTube.
Like many independent acts, Sugar Lime Blue reached out via crowdfunding website Kickstarter to help fund the release and, with much success, exceeded their Kickstarter goal of $2,500. A majority of band's tight-knit fan base purchased a vinyl copy, which will certainly give the album's already natural sound a warm boost.
Move That Earth feels homespun and versatile and could easily be played on a back porch or in a loud, raucous bar setting. All songs are recorded with great instrumental and vocal prowess, and, as a result, it's worth repeated listening.
Sugar Lime Blue will be playing an acoustic show at Levy's, located at 3900 Hillsboro Pike, on April 16 in Nashville. For more music, news and tour dates, visit sugarlimeblue.com.