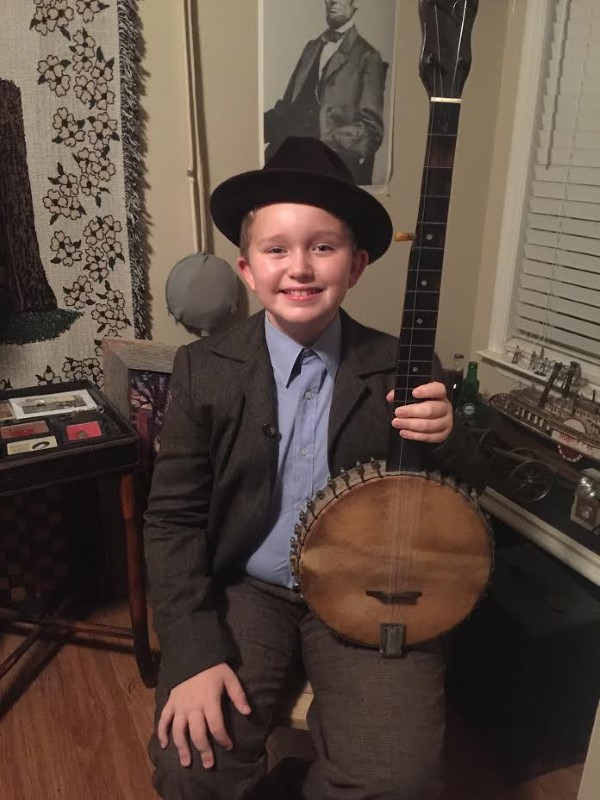 Conner Derryberry has been selected as the 2016 Macon-Doubler Fellowship scholarship recipient for music lessons in old-time banjo. The mission of the Macon-Doubler Fellowship is to promote old-time music and dance and to perpetuate the music and legacy of Uncle Dave Macon.
Conner lives in the Shelbyville area with his parents, Brian and Beverly Derryberry, and is in fifth grade. His interest in old-time music began a few years ago when he played spoons and bones for the old-time band Uncle Shuffelo & His Haint Hollow Hootenanny.
Over time, he took an interest in the banjo, learning from his older brother and YouTube videos. Since then, Conner has placed in beginner banjo competitions at Uncle Dave Macon Days in Murfreesboro and Bluegrass Along the Harpeth in Franklin. When he is not playing an instrument, Conner is an avid reader and loves Civil War history.
"Old-time music is very important to me," Conner said recently. "I want people my age to know more about it."
To improve his banjo playing, Conner applied for the Macon-Doubler Fellowship scholarship and won. The music lessons will occur during the first half of 2016.
Conner will perform a public recital from the main stage of Uncle Dave Macon Days on July 8, 2016, as part of the festival's opening ceremonies. Until then, old-time music fans can see Conner performing as part of Uncle Shuffelo & His Haint Hollow Hootenanny in appearances throughout Tennessee.
The Macon-Doubler Fellowship is organized as a not-for-profit entity under the umbrella of Uncle Dave Macon Days. Contributions to the Fellowship are always welcome and are fully tax-deductible. For further information, please contact Dr. Michael D. Doubler at mddoubler@yahoo.com.