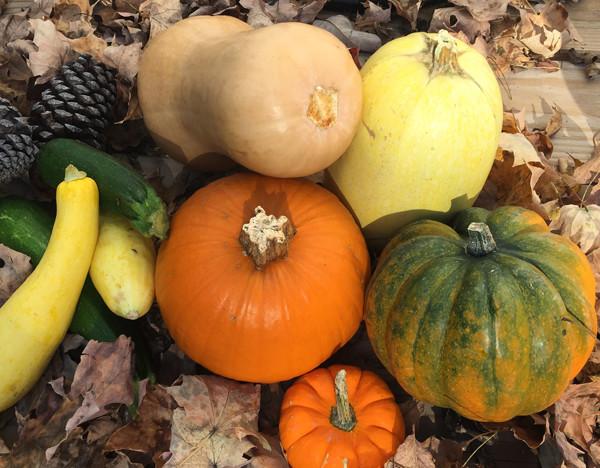 My love for food is deeply rooted. It's a love that was instilled in me at an early age by my mother, an incredible chef, artist and homemaker. As long as I can remember, and as long as I've been able to crack an egg, I've been her designated sous chef. The first books I read were cookbooks. Many of these have been passed down from family members, holding recipes like prized jewels with torn pages, stains and revisions where additional dashes of this or that were needed, and index cards to mark favorites. My mother would say, "Cooking is my passion. Food is love."
Cooking is a cherished tradition in my home. Over the holidays it feels even more important, as the meals we prepare become an extension of the love we have for our friends, family and each other.
It was sometime in early November 1993 . . . I was 6, and we were on our weekly errand to the supermarket. I watched my mother in awe as she chose the perfect squash. I wondered, "What are those odd-shaped things, and what on earth will she do with them?" Into the cart they went. It wasn't until we got home that the magic happened.
Squash are part of the Cucurbitaceous family, a vast family containing over 700 species . . . imagine a holiday dinner at their house! Acorn squash, butternut squash, spaghetti squash, zucchinis, yellow squash and pumpkins are some of the most popular. It's our luck, autumn delivers a bounty of these yummy Cucu-conundrums (or whatever they're called) and it's our duty to turn them into delicious comfort food.
"There are countless ways to prepare squash, and you shouldn't be intimidated by them," said my mother as she rinsed the butternut squash and hacked it down the middle with her chef knife. "This will make the most delicious soup." And it did. It always did. So we began, washing, chopping, sautéing, baking and creating different savory and sweet dishes with each unusual squash.
I still cook with my mom, almost every day. I'm still learning from her, though now occasionally she learns something from me, too. Another thing I still do to this day is laugh to myself when I see how many people are perplexed by squash. Often, at the market, I am asked by the person at checkout or another customer perusing the aisle, "what do you do with that thing?"
I would like to share with you some of our favorite family recipes; please enjoy these squash dishes with someone you love. This month, say "yes" to squash.
Yellow Squash Casserole
INGREDIENTS
1 tbsp. butter or 0live 0il (I like to use a little of both)
1 small onion, sliced
2 to 3 squash, washed and cut into bite-sized pieces
½ tsp. parsley
½ tsp. Italian seasoning
A pinch of salt and pepper
2 tbsp. bread crumbs
2 tbsp. Parmesan cheese
METHOD
Place oil/butter in a medium frying pan over medium heat.
Add the onion and squash.
Sauté for a few minutes until onions and squash soften.
Add parsley and a little salt and pepper.
Be careful not to add too much salt, as the Parmesan cheese tends to be salty enough.
Place veggies in a baking dish.
Sprinkle top with the bread crumbs and Parmesan.
Bake in the oven for about 10 to 15 minutes, or until the cheese is melted and bread crumbs are lightly browned.
~~~
Butternut Squash Soup
INGREDIENTS
1 butternut squash
1 tbsp. butter
1 clove garlic, diced
1 shallot, diced
4 cups vegetable broth
1 cup heavy cream or Half and Half
a pinch of nutmeg (grating a little fresh is better)
salt and pepper to taste
chives for garnish if desired
METHOD
Preheat oven to 350 degrees.
Cut squash in half, lengthwise.
Place cut side down on a baking sheet and bake for about 45 minutes, or until the squash is fork-tender.
Remove from oven and allow to cool.
Once the squash is cool enough to handle, you can easily remove the skin.
Set aside.
Melt the butter in a large saucepan.
Add the garlic and shallot and cook on medium low for a minute or so, until soft and translucent.
Add the squash, vegetable broth and cream. Incorporate everything together using an emulsion blender.
Add more broth or cream to obtain the consistency you like.
Add the nutmeg and season with salt and pepper.
Taste and season until you reach the desired flavor.
Serving suggestion: add a little cream swirl and fresh chives.
(Note: If you do not have an emulsion blender, you can purée the butternut squash in the food processor before adding it into the pot.)
~~~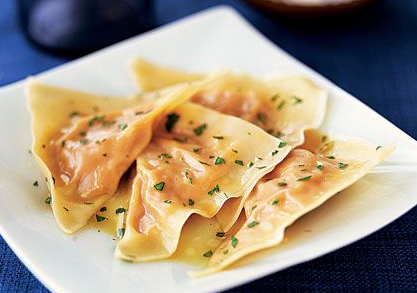 Pumpkin Ricotta Cheese Ravioli
INGREDIENTS
8 ounces ricotta cheese
¼ cup pumpkin (fresh is best, but canned will work)
4 tsp. Parmesan cheese
1 tbsp. parsley, minced
1 egg
¼ tsp. salt
nutmeg, a small grating (optional)
wonton wrappers (as pasta dough)
1 egg, for egg wash to hold wontons together
METHOD
Mix together all ingredients (not counting wrappers or egg).
In a separate small bowl, whisk one egg with a teaspoon of water.
Set your wonton wrappers on your work space.
Brush a little of the egg wash around the edges of one wonton.
Fill wonton wrapper with a teaspoon of filling.
Top with another wonton and press the edges together to seal the filling inside.
Set aside and continue until you've made as many ravioli as you want.
Gently put ravioli into boiling salted water.
They are done when they rise to the top.
These are delicious with alfredo sauce!
(Note: If you'd like to make extra ravioli, you can gently toss the uncooked ravioli in semolina flour and freeze in an airtight baggie. Then just boil, frozen, when you're ready to enjoy them.)
~~~
The Best Pumpkin Bread
INGREDIENTS (makes 2 loaves)
3 ½ cups all-purpose flour
2 cups brown sugar, packed
⅔ cup cane sugar
2 cups pumpkin puree (fresh is best!)
1 cup butter, melted
⅓ cup milk
2 tsp. baking soda
1 tsp. salt
1 tsp. nutmeg, ground
1 ½ tsp. cinnamon, ground
1 cup walnuts, toasted and chopped
METHOD
Preheat oven to 350 degrees.
Coat two 8-by-4 loaf pans with butter and sugar.
In a large bowl, combine the flour, brown sugar, white sugar, pumpkin purée, butter, milk, baking soda, salt, ground nutmeg and ground cinnamon.
Mix until all of the flour is gone.
Fold in the nuts.
Pour batter into the prepared pans.
Bake at 350 degrees for 1 hour, or until a toothpick inserted in the center comes out clean.
Remove from oven and cover loaves tightly with foil.
Allow to steam for 10 minutes.
Remove foil and turn out onto a cooling rack.
Allow to cool completely.
Enjoy!
~~~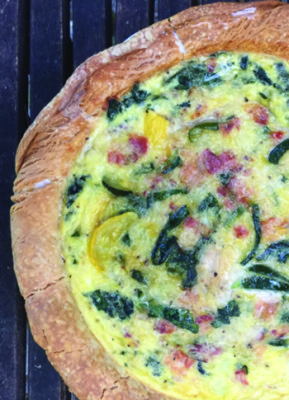 Zucchini, Bacon and Gruyere Quiche
INGREDIENTS (makes 6 to 8 main-course servings)
pie crust
¼ lb. sliced bacon, coarsely chopped
2 medium zucchini, halved lengthwise, then cut crosswise into eighth-inch-thick slices
½ tsp. salt
¾ cup heavy cream
¾ cup whole milk
¼ tsp black pepper
3 large eggs
2 oz. Gruyere, coarsely grated (1 cup)
METHOD
Put oven rack in middle position and preheat oven to 450 degrees.
Fit pie dough into pie plate and lightly prick all over.
Fry bacon and transfer to a paper-towel-lined plate, reserving fat in skillet.
Add zucchini and salt into bacon pan and cook until tender, about 5 minutes.
In a large bowl add the heavy cream, whole milk, black pepper and eggs.
Whisk together.
Add in the bacon and zucchini.
Stir in the Gruyere.
Pour mixture into pie crust and bake for about 30 to 45 minutes, until filling is set.
Allow to cool before serving.