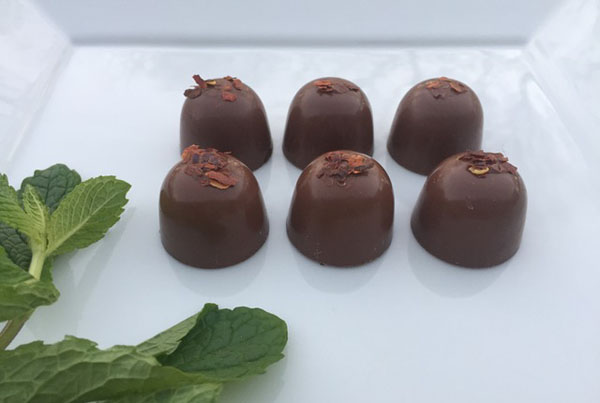 Every year I get into the same inner debate. . . . I wonder, is Valentines Day just a facade designed to fill the shopping void between Christmas and Easter? I mean, shouldn't we celebrate love every day? Surely, love doesn't get just one day. Surely a heart-shaped "be mine" candy or the act of children buying cards for their entire classroom can't sum it up.
If you're like me, you believe Feb. 14 is another opportunity for Hallmark, Russell Stover and every jewelry company on the planet to make money.
Yes, love is grand. So grand, tangible items seem to barely scratch the surface of the depths of it. Passion, desire, promise, sanctity—that is what love is about. That's why I prefer to go a different route—a more intimate route that not only says I love you, but I want you.
While roses and a box of chocolates won't hurt, if you really want to show someone you love them, serve something sexy. It's a little daring but mainly delectable—a date night to remember, an evening of aphrodisiacs.
Take a gourmet stand for the greater good of love and try one of these romantic morsels. Valentines Day won't know what it had coming! Foods such as chocolate, honey, oysters, chili peppers and figs, among others, have been said to ignite and sustain desire, passion, energy and love. Let's give it a try! Tonight, on the menu we are having:
Chocolate Chile Truffles
INGREDIENTS
• 8 ounces semi-sweet chocolate
• ½ cup heavy cream
• 1 tsp. vanilla extract
• 1 tsp. cinnamon
• ¼ tsp. cayenne pepper
• Melted chocolate for dipping
METHOD
Break chocolate into pieces. Place heavy cream in a small saucepan and heat just until it bubbles. Pour hot cream over chocolate. Stir until chocolate is melted and mixture is smooth. Stir in vanilla, cinnamon and cayenne. Chill mixture for at least two hours. Use a cookie scoop (1 or 2 tablespoon) to scoop balls of truffle. Roll into uniform balls and place on a wax paper-lined cookie sheet. Melt chocolate according to package directions and dip truffles in chocolate, and top with a few red chili flakes (or more if you dare!)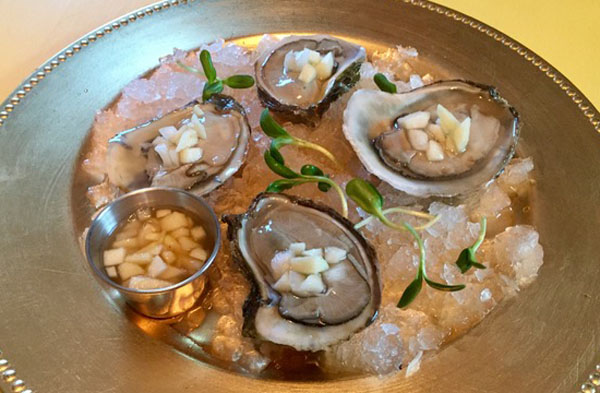 Oysters with Apple Mignonette
INGREDIENTS
• 2 tbsp. apple cider vinegar
• 1 tbsp. shallot, finely chopped
• 1 tbsp. Granny Smith apple, finely chopped (or other tart apple)
• Black pepper, to taste
• 12 oysters, freshly shucked
METHOD
Stir together cider vinegar and shallot. Let stand for 10 minutes. Stir in apple. Top each oyster with ½ teaspoon mignonette just before serving.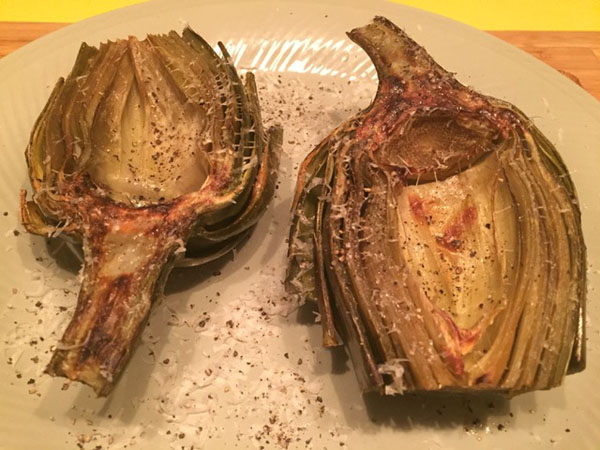 Honey Roasted Artichokes
INGREDIENTS
• 2 medium artichokes
• 1 lemon
• ½ cup mayonnaise
• 1 tbsp. chili sauce (such as Heinz)
• 2 tbsp. honey
• Kosher salt
• Black pepper
• Olive 0il
METHOD
Cut ½ inch off the top of the artichokes and cut each artichoke in half vertically. Using scissors, trim the leaves of pointy ends. Carefully cut out and discard fuzzy chokes in the center of each half. Rub the artichokes with lemon. Bring a few inches of water to a boil in a large pot. Turn on low heat, add artichokes, cover, and steam until tender, about 30 minutes, adding more water if necessary.
In a bowl, stir together the mayonnaise, chili sauce, 1 tbsp of honey, ¼ teaspoon pepper and a pinch of salt. Set aside. Prepare a grill for medium-high heat or turn the broiler on high. In a separate bowl add olive oil, a dash of water and the remaining tablespoon of honey, whisk together. Brush the steamed artichokes with the olive oil/honey mixture and sprinkle with salt and pepper. Grill or broil cut-side down, until nicely charred, 4 to 5 minutes. Serve with the dipping sauce.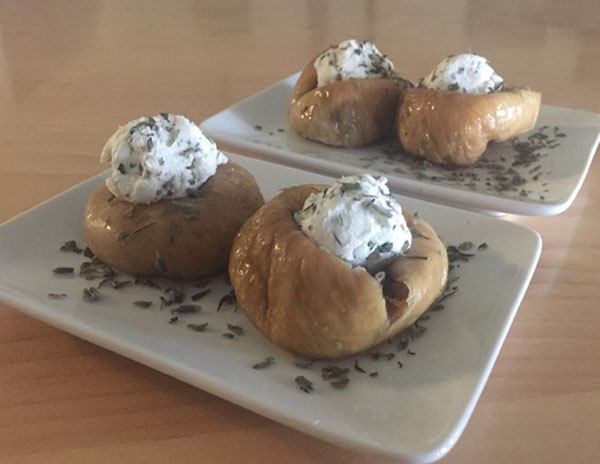 Goat Cheese-Stuffed Figs
INGREDIENTS
• 2 ounces, approximately, of soft, fresh goat cheese
• 1 tbsp. Herbs de Provence
• 12 fresh figs, washed and drained
METHOD
In a small bowl add goat cheese and Herbs de Provence. Mix well. Use your fingers to roll the goat cheese into ½-teaspoon-sized balls. Cut figs in half. Press a cheese ball into the center of each fig. Plate and serve.