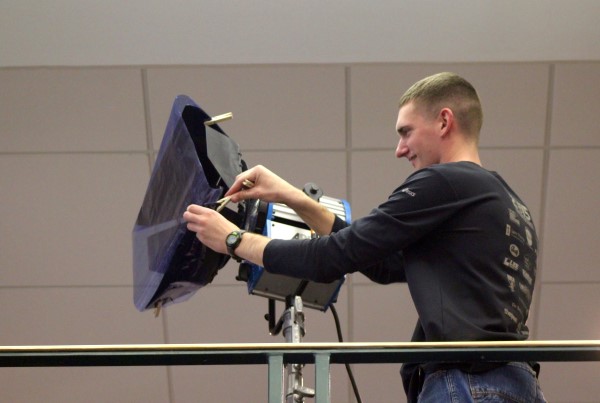 It's around 5 p.m on Feb. 24, and young filmmakers are all gathered in MTSU's John Bragg Media and Entertainment Building, buzzing with anticipation. Why are they excited to be meeting at school on a Friday evening? Well, they're all waiting for the kick-off to the 54 Film Fest competition, which will begin promptly at 6 p.m. They've all gathered for an inception meeting laying out all the rules and parameters for the weekend.
The basic concept is simple: Make a short film in 54 hours. That includes writing, shooting, editing and finalizing, a process these groups typically stretch out over weeks, if not months. To make it an honest and intriguing challenge, teams don't know what genre they will be assigned until the competition begins. The groups are also be given a special prop they must utilize, an action to be included and one line of dialogue that must be in their script. These requirements limit the ability to prepare ahead of time and sets the stage for what will certainly be a weekend with long hours, sleepless nights and a looming deadline as a constant motivator.
Leading the meeting is Ben Jones, the city producer for the Murfreesboro competitors. Aside from his day job as MTSU's director of accounting services, Jones dedicates his time to organizing the Middle Tennessee division of competition; another division is also hosted in Knoxville. Jones brought the competition to town after admiring what its creator, James Thayer, had put together.
"I liked the family-friendly orientation, I like the additional time [compared to] a 48-hour competition, getting a little more time for editing. I liked all those things about it, and I wanted to support James and bring something like that back to Murfreesboro," Jones says. "I wanted to see this film festival build the Murfreesboro arts community, which to me needs some passion and vitality to it. There are people who do great things here, but I'd love to see an immersive community and for the 'Boro to have its own artistic flavor."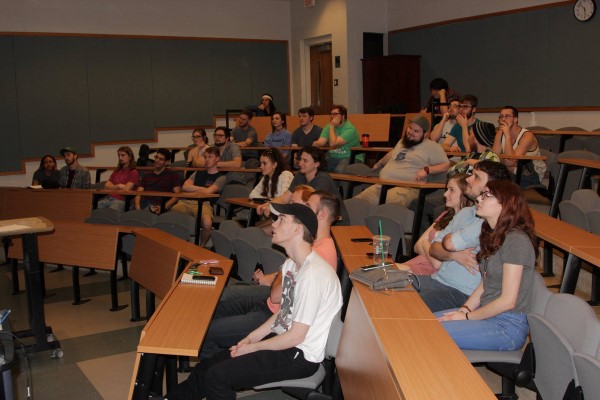 Jones is heading up the Murfreesboro congregation, while colleagues in Nashville and Franklin lead the other Middle Tennessee hubs. The regional teams will all be judged against one another for accolades in directing, acting, best use of prop and other areas at an awards show and screening on March 18 at Nashville's Hollywood 27 Regal Theater.
Competition aside, 54 Film Fest is all amount learning and challenging oneself at its core. Teams work together to create, problem-solve, resolve conflicts and manage time, all in the name of film and creating memories.
"54 gets you a chance to put yourself into a 'war-like' situation and have you make decisions," Jones says. "[Compared] to a college test, it's that same pressure, but the 54 involves so much more application, knowledge acquisition, on-the-fly action, and all those things that go into it. It's a lot more interactive.
"With the 54 you get the live-action opportunity to create something artistic, something spontaneous, something life-altering, something you will never ever forget."
Meet the Guild
Among the eight Murfreesboro teams competing (43 in all, regionally) is the premier filmmaking organization at MTSU, the MTSU Film Guild. Designed as an extracurricular production training ground for university students, the Guild aims to teach members everything they need to know about video production through hands-on experience outside the classroom.
The Guild is no stranger to the 54 Film Fest, competing year after year with such entries as 2015's thrilling revenge tale Exhale and last year's entry Time Well Spent, a story about a son spending one more day with his deceased father. They've prepped for 54 since the start of the year, preparing as much as they can for a contest with unknown parameters.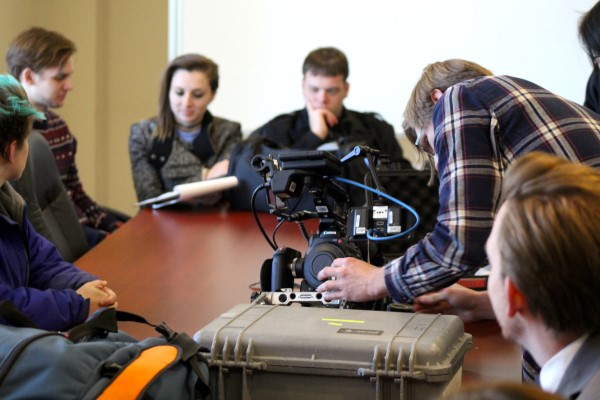 "We found it easier to find a location and keep a couple of actors on hold, and then whenever you get the script ready, we just have to set it in the location that we locked in. That way you don't have to worry about finding something later," says Jessica Rigsby, junior film production major.
"The great thing about 54 is that we put a lot of time into prep work," fellow junior member Zach Carpenter says. "(But) when it all comes together, I have no idea what's gonna happen. Something always happens, and it's always a good time. It's a great learning experience for everyone involved."
As we talk, it's just before 7 p.m. on day one. Writers are bunkered away scripting a time-travel tale, which must include a puzzle piece as a prop, the action of dancing and the line "That's too much!" in its dialogue.
The production team members are idly standing by waiting for the script to be finished so they can plan shots, contact actors and prepare sets. It's an anxious waiting process, as the glaring challenge of a nonstop, timed creative process lies ahead.
"This stuff normally takes us takes about three months," Rigsby says. "It's like a semester's work in three days."
"(The difficulties) are always what you don't expect to be a process," Carpenter says. "Sometimes it's editing, sometimes it's on set with a hard scene to do or sometimes it's writing. There's no way to know what's going to be the hardest."
With a script being worked over the next few hours, that means the production teams will be pulling an all-nighter to complete their tasks before the Saturday morning call time. This is all a part of the weekend challenge, with the festival's motto even being "Sleep is for the week."

Luckily, many Guild members, like Rigsby and junior Erin Moore, have taken on 54 Film Fest before and lived to tell the tale. Last year the duo were up for more than 48 hours, prepping fake glass for a car crash scene in Time Well Spent, among other tasks.
"Last year there was a time where we all just took an hour nap in my car. We just skipped dinner and slept," Moore says. "What's more important: food or sleeping? That's what it ends up being."
Despite a grueling night ahead, the team is in good spirits, cutting up in a campus editing bay listening to classic pop and rock while the writing process continues. And while the vibes might not stay so positive the closer it gets to hour 54, the team has a strong bond that makes condensing months of labor into less than three days just that much easier.
"There's no other time of year where you have 30-plus people you really love all working together on the same thing," Moore says.
The Next Day
At 4 p.m. on Saturday, the MTSU Film Guild is at its final location, the First Baptist Church in Hendersonville. They've spent all day a few miles away at Gallatin's Amulet Farms shooting their film, which focuses on a time-traveling duo out to steal innovative ideas across history. The team's been at it officially for 22 hours, with most being up all day Friday as well. Team morale is, well, what'd you expect.
"I've had 30 minutes' sleep in the past 30 hours, so you know, doing great!" Moore says. "We're shooting some really good stuff, and we're almost done, and we're all pretty tired, but we're all excited to see what is going to be."
The team in the writers room completed the script around 2 a.m., and then the crew was off to work. Rigsby and Moore spent their first hours of the day building the time machine, a prominent element in the tale. It took a lot of lumber, paint and flashing lights, but the team constructed a device even Bill and Ted would admire.
"Art Department didn't sleep at all last night," Moore says, "We had to go straight into building sets and everything right after the script was done. We were even late to our call time just trying to get everything done. But we still made a time machine, and we spray-painted it chrome, and it was a lot of fun and we had a long night learning how to use a table saw. It was great."
Fortunately, the duo will soon be on their way to bed when the last scene comes to an end. Editors and project managers will be up for the remainder of the 54 hours piecing together a film hopefully worthy of top accolades in the region. But even if it falls short, the Guild members got to spend a weekend together pushing their abilities to the limits and learning along the way.
"We're all really tired and have taken naps in our cars, but I think it was totally worth it," Rigsby says. "It's just really fun to challenge yourself and see what you can do in such a short amount of time."
The 54 Film Fest screening and awards ceremony will take place on March 18 at the Hollywood 27 Regal Theater located at 719 Thompson Lane, Nashville. For more information on the competition, visit 54filmfest.com. For more information on the MTSU Film Guild, visit mtsufg.com.