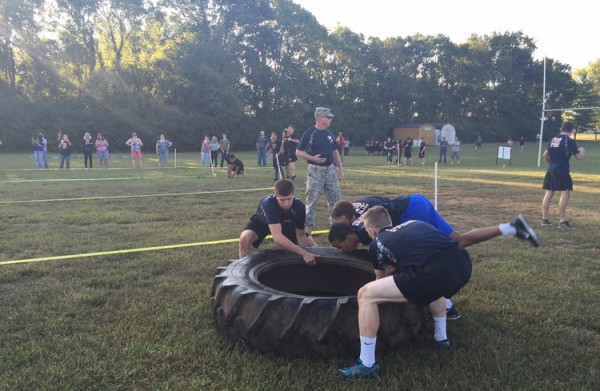 Blackman High School's Junior Reserve Officer Training Corps (JROTC) program will continue its efforts to fund an onsite multi-purpose building by presenting the Blaze Warrior Challenge, a 5K and 10K run, on Saturday, May 13.
Following last year's Blazefest music festival fundraiser, JROTC Booster Club President Terri Eshleman says she hopes the event will attract community members who wish to support the program's 230 cadets.
"JROTC isn't just designed for military training or as an alternative to physical education courses . . . it's life training," says Eshleman, whose daughter is a member of the program. "They learn life lessons like how to budget, how the stock market operates and what's going on in the country."
"Col. [Gary] Spry also does a great job of boosting the kids, whether it's with help applying for colleges and scholarships or building resumes," she continues.
Eshleman says cadets currently train in "all weather conditions, from snow and rain to freezing and hot weather" and that the proposed building will offer a controlled environment for students to apply their training.
"Cadets need a more comfortable practice building to master what they are learning," she says.
But before the building comes to fruition, members of the program must reach the estimated $225,000 budget by holding fundraisers such as the upcoming Blaze Warrior Challenge.
In addition to the 5K and 10K run, event organizers are planning a Race and Obstacle Course Challenge that incorporates the same equipment cadets use in competitions. To participate in the challenge, teams of eight will brave 12 obstacles, such as tires and a wall and rope climb, as well as finish the 5K.
Eshleman says organizers want the community to know that the Blaze Warrior Challenge is family friendly, as there will also be a one-mile fun run for kids. Additionally, strollers and leashed pets are welcome.
"It's a family event, so we don't want anyone to be discouraged because they see that it's a 5K and 10K run," she says.
High school students in the award-winning program currently travel to other counties for rifle and drill competitions, but the proposed building would act as a resource for all JROTC students in Rutherford County.
Once the building is completed, Eshleman says other organizations, such as cheerleaders or the volleyball team, can utilize the space during JROTC off-season.
"A lot of extra curricular programs get shifted around the school because there's not enough room," she says. "It's a much-needed facility."
Participants are encouraged to sign up prior to the event at runsignup.com or blazewarriorchallenge.com; the one-mile fun run is scheduled to kick off at 7 a.m. on Saturday, May 13, with the 5 and 10K races beginning at 7:30, and the Obstacle Course Challenge kicking off at 8 a.m. For more information, visit the Blackman High School JROTC page on Facebook or email blackmanjrotc@yahoo.com.