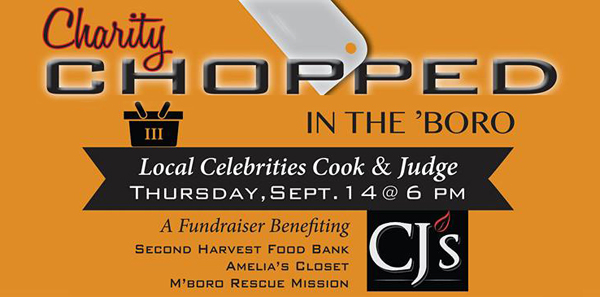 Local celebrities and chefs are cooking up a plan to help struggling families receive food, clothing and shelter.
Charity Chopped in the 'Boro will be held at 6 p.m. Thursday, Sept. 14, at CJ's Restaurant and Catering, 352 W. Northfield Blvd. The event, featuring a three-round cooking contest, live music and an hors d'oeuvre buffet, will benefit Amelia's Closet, Murfreesboro Rescue Mission and Second Harvest Food Bank of Middle Tennessee. Tickets are $75.
Competing in the event will be Murfreesboro Mayor Shane McFarland, who will be paired with Chef Alex Belew; Kristin Demos, who will be paired with Curious Kitchen co-owner Rachel Spensatelli; and John Jones, who will be paired with Mitchell Murphree of Five Senses.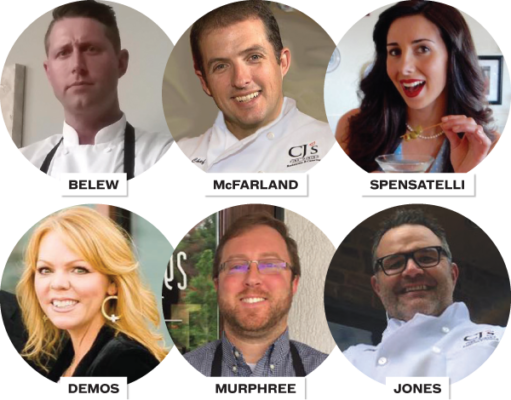 Judges include John Floyd, Shane Reeves, Rachel Holder, Lisa Spencer and Christy Hackinson. Kelli Beam will serve as emcee for the evening. Musical entertainment will be provided by Drew Sims, Larry Pinkerton, Craig Campbell, Robyn Taylor and Mike Cap.
"Charity Chopped in the 'Boro, in my mind, is really about people coming together to close the gaps of opportunity for everyone in Rutherford County. Food clothing, and shelter are the basic things we all need," said Shannon Wheeler, organizer of the event. "Every citizen of Rutherford County benefits when every citizen has these basic needs met."
The winning chef will receive a bonus of $5,000, courtesy of Ole South Properties, to be donated to the organization they represent in the competition.
For sponsorship opportunities or tickets, contact Shannon Wheeler at (615) 417-6640. Tickets remain, but seating is limited. Seating will be open, and patrons will be able to view the competition as each chef battles for the top prize.
Amelia's Closet provides women dignity and hope in their recovery journey by giving them a second chance at making a great first impression.
Murfreesboro Rescue Mission plans to assist homeless men, women and children in Murfreesboro, offering emergency shelter, a life recovery program and halfway housing.
Second Harvest Food Bank of Middle Tennessee's mission is to feed hungry people and work to solve hunger issues. Second Harvest collects, sorts and distributes food to more than 490 partner agencies throughout 46 counties in Middle and West Tennessee.
For more information about Charity Chopped in the 'Boro, visit facebook.com/charitychopped.