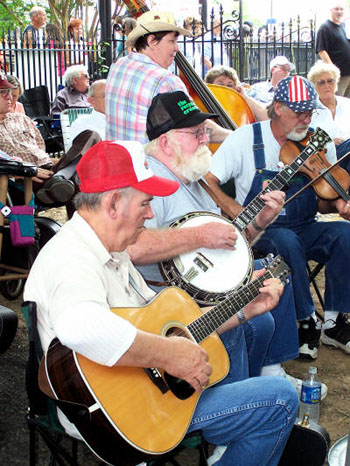 It's officially summer and along with the scorching temperature, music festivals are in full effect all over. For the past 33 years, Murfreesboro's Cannonsburg Village has been home to Uncle Dave Macon Days. From July 9-11, this three-day festival will bring out the young and old for the best in blues and bluegrass music.
Holding various competitions in dance and music, the event brings in $2 million locally and over 50,000 people to Murfreesboro. This year will include special treats such as cake walks, petting zoos and a huge family reunion. And the growth of the festival is bringing about other changes, as well.
"We have grown to the point that it's a year-round task to plan and manage," says Gloria Christy, President of Uncle Dave Macon Days.
One notable change to the Uncle Dave Macon Days festival this year, for the first time, festivalgoers will have to pay to attend the event. Tickets will be $5 for Friday only, or $8 for both Friday and Saturday. Sunday is free. Part of the proceeds go to Cannonsburgh, which is in need of restoration.
"Without the upkeep of the site, the festival will no longer be able to be held there," said Christy.
Additionally, over the years, 200-300 volunteers have helped make Uncle Dave Macon Days a success, but in recent years the crowds have been larger, and now a paid staff is necessary.
The Macon Family Reunion is another new addition this year. Imagine everyone related to legendary Dave Macon joining in on the festival. Members of the Macon family, from all over the country, will be in attendance.
Another highlight this year will be the Heritage Award ceremony, honoring Norm and Nancy Blake, who are multi-platinum artists and have received seven Grammy nominations. Norman Blake is now perhaps best known for his rendition of "You are my Sunshine" on the soundtrack to O Brother Where Art Thou, which won a Grammy in 2002 for Album of the Year.
And the Trail Blazer Award will go to Curtis McPeake, who has performed with artists including Lester Flatt and Bill Monroe, and today the banjo collector owns McPeake's Unique Instruments in Mt. Juliet.
"I think the best part of the event is seeing the different generations, young and old enjoying themselves," Christy said of the festival. "This is definitely an event you would not want to miss."
2010 Schedule:
Friday, July 9
4 p.m. Opening Ceremonies
5 p.m. Linnel Gentry Old Time Singing Contest (WWII era or earlier)
Beginner Instrumental (13 yrs and younger)
UDM Free Wheelin Style
Freestyle Dance Jr.
Freestyle Dance Sr.
7 p.m.
The 2010 Trail Blazer Award—Curtis McPeake
Blues Singing w/acoustic instruments
De Ford Bailey Harmonica Contest
Dobro
Saturday, July 10
9 a.m.
Guitar (One Tune)
Mandolin (One Tune)
Contest Fiddle (Waltz & Breakdown)
10 a.m. Motorless Parade
Old Time Clogging (Jr. preliminary)
Old Time Clogging (Adult preliminary)
Old Time Clogging (Sr. preliminary)
Old Time Buckdancing (Jr. preliminary)
Old Time Buckdancing (Adult preliminary)
Old Time Buckdancing (Sr. preliminary)
Dulcimer (One Tune)
Traditional Fiddle (Two selections)
Old Time Banjo (Preliminary)
4 p.m. Tommy Jackson and the Rocky Top Review Square Dance Exhibition
5 p.m. 2010 Heritage Award Winner—Nancy and Norman Blake
Presentation of 2009 Macon-Doubler Fellowship Winners
6 p.m. Old Time Band (Preliminary)
Bobby Thompson Bluegrass Banjo
Bluegrass Band (Preliminary)
Old Time Clogging (Jr. finals)
Old Time Clogging (Adult finals)
Old Time Clogging (Sr. finals)
Old Time Buckdancing (Jr. finals)
Old Time Buckdancing (Adult finals)
Old Time Buckdancing (Sr. finals)
Old Time Banjo (finals, two tunes)
Old Time Band (finals, one tune)
Bluegrass Banjo (finals, one tune)
Bluegrass Band (finals, one tune)
Sunday, July 11
Gospel Showcase, Free
12 p.m. Old Time and Gospel Singing and Community Services Fair