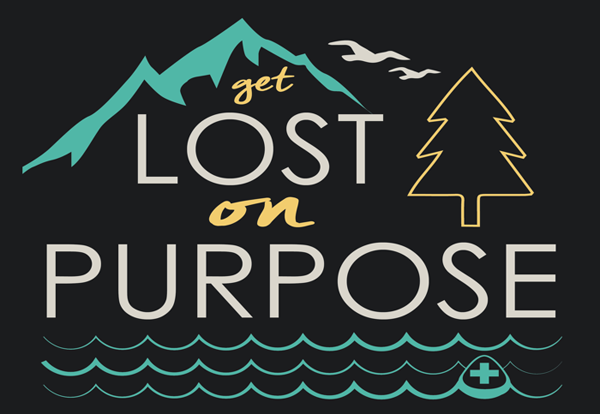 Does the whirlwind of life have you telling yourself "stop the world, I want to get off?" It is easy to get caught in this mental vortex that can have us spinning in all directions.
Managing the details with more grace isn't as difficult as you may think. Learn to GET LOST! This is a more advantageous action if you elect to do it, rather than having some life crisis (sickness, accident, injury, etc.) demand that you do it.
Unexpected life crises or emergencies prove that we can and will always tend to "what matters
most" in each moment. Preventing a build-up of unnecessary stress and burden is what we want to achieve in order to avoid crisis or mental breakdown.
This time of year many take vacations. Vacations are thought of as breaks from reality. A chance to discover something new, relax, take a time out or be with people we care about. How would you like to have this feeling throughout the year, without waiting for the long anticipated "annual" vacation? Mini versions of vacationing are the perfect solution. You have vacations, stay-cations, day-cations. Many companies have incorporated "mental day" perks when you just need to have a day to yourself! Why? Because there is undeniable proof that "getting lost" from it all for even a short time allows the mind to clear, breath to come, body to loosen, life to flow again.
Preplanning is good to make sure you allow mental breaks to occur. Make note of a variety of things you'd like to do then select the time of year you want to do them. Then, create your calendar.
When you have something to look forward to you open up dialogue and enthusiasm outside of the
mundane or typical. Here are some things to consider doing.
Weekend:
• Visit a nearby city or town. Create an agenda of sights to see, restaurants to explore and evening entertainment.
• Go camping.
Day-cation:
• Make your own tourist attraction map. Plot out things you've never taken the time to do that are right in your own back yard.
• Create "theme" days like finding all outdoor activities, planning an art day, movie day, culture day, or wine tasting and touring of different vineyards day.
• Spend just 24 hours away from your own home—out of town or at a friend's. A different environment for even a little bit gives fresh perspective.
"Not all those who wander are lost." ~ J.R.R. Tolkien
Not enough time for even a 24-hour get away?. No problem. There are even quicker ways to "get lost."
Time Outs:
• Block out an hour for reading a book that interests you. Allow yourself to escape into the pages.
• Light some candles. Sit. Inhale stillness. Just be.
• Spend time in a room (or a different spot in a room) of your home where you don't normally go.
• Set aside time for a "Sound of Silence" for 10 minutes every day. Absolute silence. Shhhhh!
• Sit in a far corner of your yard and look at your home from this vantage point. Take in this scene.
• Get up for the sunrise. Watch it from somewhere in nature.
• Watch the sunset. All of it.
The main thing to remember is allow yourself to consistently get lost—for a minute or a day. Try this alone, please. When you do you get a closer glimpse of what's really important to you. Your thinking becomes elevated and less opaque. This will help you stay on a path less cluttered and chaotic. You will look forward to "leaving your mind behind" as much as any vacation you take. And, you can have these mental time outs much more often.
"The greatest gift you can give yourself is a little bit of your own attention." ~ Anthony J D'Angelo