Through Nov. 4 – Apples for Sight
The Murfreesboro Lioness Club hosts its twelfth annual fundraiser, Lioness Apples for Sight, through Nov. 4. For a $100 donation receive a box of delicious Gala apples to be delivered locally Oct. 24–Nov. 4. Proceeds benefit the Lions Sight Conservation projects including the eye screenings of children to detect eye diseases and provide correction. The organization also funds an annual MTSU Scholarship for a vision-impaired student and donates to Middle Tennessee Lions Sight Service, the Tennessee School for the Blind and Leader Dog. For more information, contact 615-512-0500 or 615-893-3129.
Beginning Oct. 5 – Cooking Class Series by Studio Veg
Learn about evidence-based, high-energy, delicious, nutritious options for feeding yourself and your family, discover which foods are optimal for weight management and learn about various health topics while practicing practical cooking skills at a Kickstart Your Health Nutrition and Cooking Class Series by Studio Veg at Patterson Park Community Center (521 Mercury Blvd.) from 6–8 p.m. Each class builds upon the previous one; however, individual classes may be attended for $35 each. Classes are certified by the Physicians Committee for Responsible Medicine. For more information or to register, call 615-556-1152 or email sharon@studioveg.com.
Oct. 6 – Sam Davis Birthday Celebration
Visit the Historic Sam Davis Home & Plantation (1399 Sam Davis Rd., Smyrna) on Sam's birthday, Friday, Oct. 6, from 10 a.m.–1 p.m. Every tour comes with a cupcake to celebrate his special day. For more information, call 615-459-2341 or visit samdavishome.org.
Oct. 6 – Murfreesboro Lions Club Spaghetti Supper
Enjoy all-you-can-eat spaghetti, salad, bread and dessert at the Murfreesboro Lions Club Spaghetti Supper at the Lions Clubhouse (407 Hickerson Dr.) from 4:30–7:30 p.m. on Friday, Oct. 6. Proceeds go towards buying glasses and hearing aids locally. Tickets can be purchased at Jeff Edge's Edward Jones office (1602 W. Northfield Blvd., suite 503) or by calling 615-895-8282 or 615-598-7172.

Oct. 7 – MTSU Homecoming Parade
MTSU Homecoming Parade marches down Main Street at 10 a.m. on Saturday, Oct. 7, with the MTSU Blue Raiders vs. Florida International University football game kicking off at 2 p.m. at Floyd Stadium.
Oct. 7 and 21 – Conversations with Kevin
Join the motivational workshop series Living a Positive Life in a Chaotic World, featuring speaker, author and Humadyn-Life Skills Institute founder Kevin McNulty. McNulty helps provide tools to reach your goals, discover your potential and cultivate a more positive and fulfilling life. The series begins with "Creating a Positive Mindset" on Oct. 7 followed by "Learn, Change and Grow" on Oct. 21. All programs take place Saturday mornings from 9 a.m.–noon. at 610 W. College St., Suite 115. Refreshments provided. Register at kevinmcnultyspeaks.wixsite.com/conversations and use the code "VIP50" at checkout for a 50 percent discount. For more information, call 615-216-0481 or email kevin@humadyn.com.
Oct. 7 – Dogs & Hogs
Bumpus Harley-Davidson of Murfreesboro (2250 NW Broad St.) hosts Dogs & Hogs on Saturday, Oct. 7, from 11 a.m.–2 p.m. The public may bring their dressed dogs to enter into a costume contest, enjoy food and drinks and check out some amazing motorcycles. In addition, the PAWS Adoption Trailer will be out with adorable, adoptable dogs. The event is free to the public, and the contest begins at 1 p.m. For more information, contact 615-849-8025 or visit bumpusharleymurfreesboro.com.
Oct. 8 – Dubfest 2017
The Wolfsburg Alliance Volkswagen Club of Middle Tennessee, a "brotherhood" of Volkswagen enthusiasts, welcomes you to Dubfest on Sunday, Oct. 8, at Veterans Memorial Park (115 Floyd Mayfield Dr., La Vergne) with proceeds benefiting the Nashville Rescue Mission. Dubfest is Middle Tennessee's only all-Volkswagen car show and swap meet. Enjoy door prizes, raffles, food trucks, kids activities and awards in over 20 categories. Gates open for spectators at 10 a.m. and awards will be presented at 3 p.m. Spectator admission is free. For more information, contact 615-347-7723 or wolfsburgalliance@gmail.com, or visit wolfsburgtn.wixsite.com/mysite.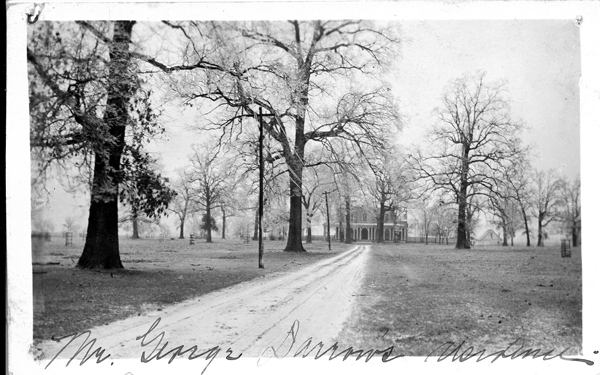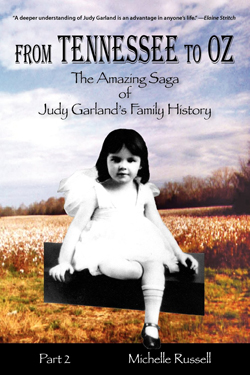 Oct. 8 – From Tennesee to Oz
Oaklands Mansion (900 N. Maney Ave.) welcomes author Michelle Russell on Sunday, Oct. 8, to discuss her project: From Tennessee to Oz: The Amazing Saga of Judy Garland's Family in the front parlor at 2 p.m. This story highlights Judy Garland's paternal ancestry including her father, Frank Gumm, a fifth-generation Tennessean and descendant of pioneers who braved the wilderness to help create the state of Tennessee. Book 1 (1793-1870) tells of rugged pioneers, Native Americans, ministers of God and the Civil War. Russell focuses this signing on East Main Street life and the surprising romance of Garland's grandparents. Attendees also learn of Garland's connection to Oakland's former occupant, George Darrow. Reservations required; seating limited. Visit oaklandsmansion.org, or contact 615-893-0022 or info@oaklandsmansion.org.
Oct. 12 – Stronger Together
Join Murfreesboro Medical Clinic (1272 Garrison Dr.) Thursday, Oct. 12, from 5:30–7:30 p.m. for an evening celebrating the strength that comes from knowledge about breast health. Listen to the expert panel, take a 3D mammography tour and enjoy a variety of refreshments and live entertainment. RSVP for Stronger Together at mmclinic.com.
Oct. 12 – Connecting on the Farm
Join the Journey Home for Connecting on the Farm 2017 from 6–8 p.m. Thursday, Oct. 12, at the home of Glen and Patti Hutchinson (550 Hutchinson Ln.). Enjoy free food, seasonal beverages, wine and beer served around a roaring campfire and fellowship with friends and learn about the outreach programs offered through The Journey Home, a faith-based nonprofit organization that provides daily hot meals, food boxes, clothing, laundry and shower facilities, shelter assistance, mental health assistance, and support programs for the homeless and disadvantaged in Rutherford County. Admission is free. To learn more, visit lovegodservepeople.org. Contact 615-809-2644 or thejourneyhomemboro@yahoo.com or degennaronancy@yahoo.com to register. Bring your friends and camp chairs.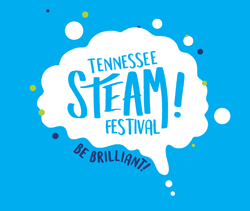 Oct 12–22 – Tennessee STEAM Festival
The Tennessee STEAM Festival at The Discovery Center (502 SE Broad St.) is a celebration of STEAM (science, technology, engineering, art and math) raising awareness and building interest in learning across different ages, neighborhoods and education levels across Tennessee. Leading off the 2017 Tennessee STEAM Festival lineup is Fastball Physics with Vanderbilt Baseball showcasing the advanced analytic tools that Vanderbilt uses to measure things like exit velocity, launch angle, spin rate and release points. Take swings in the batting cage and check your own stats. Learn about the chemistry of cosmetics with Schwan Cosmetics of Murfreesboro. For more information, call 615-890-2300 or visit tennesseesteamfestival.org.
Oct. 13 – Fall Festival
Creative Movements partners with Cultural Arts Murfreesboro for a Fall Festival on Friday, Oct. 13, with performances from spoken word artists, live paintings, live music, interactive art and art displays. Enjoy fall treats, apple cider, candy apples and hot cocoa in front of city hall on the Murfreesboro Civic Plaza during the hours of the Boro Art Crawl, 6–9 p.m. For more information, call 615-692-4752.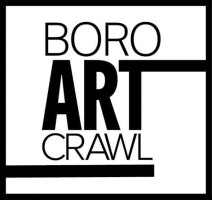 October 13 – Boro Art Crawl
The October Boro Art Crawl marks the event's second birthday. It will occur on Friday, Oct. 13 from 6–9 p.m. in establishments in and around the Murfreesboro Public Square. This Crawl will feature Murfreesboro's 2017 Artist Laureate, Murfreesboro Studio Art Tour artists, bright pop art, and a showing of art in the City Hall rotunda from many different artists focused on work, plus some fun Halloween activities. There's no better day to start celebrating Halloween than Friday the 13th, so many of the participating businesses will be decorating for the holiday and giving out candy. Also among the offerings is a scavenger hunt. If visitors complete the hunt, their name will be put into a drawing for five prizes, including dinner at Marina's on the Square. Wild Goose Chase will coordinate this event. For more information about the Boro Art Crawl, visit boroartcrawl.com or facebook.com/boroartcrawl. A map of the crawl locations will be available on line a few days before the event on these websites or at each participating location on the night of the crawl.
Oct. 14 – Middle Half
Racers will compete in the Middle Half marathon on Saturday, Oct. 14. The race starts at 1500 Greenland Dr. near the Middle Tennessee State University Track and Soccer Complex at 7 a.m. Participants will then run down tree-lined Main Street to Maney Avenue and the historic Oaklands Historic House, circle the Square, pass by MTSU's Fraternity Row and the official Geographic Center of Tennessee, and then finish on the track at MTSU. For more information, visit themiddlehalf.com.
Oct. 14 – Lambert Dillard 5K
The Lambert Dillard Memorial 5K honors the lives of Angi Ross Lambert and Carla Dillard, which were tragically lost to violent crimes. The race, beginning at Sharp Springs Park in Smyrna, kicks off with a Kids Run Fun at 8:30 a.m., followed by the 5K at 9 a.m. For more information, visit ymcamidtn.org.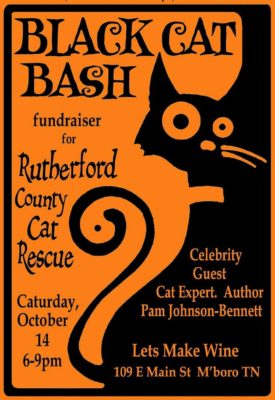 Oct. 14 – Black Cat Bash
The Black Cat Bash fundraiser, held Saturday, Oct. 14, from 6–9 p.m. at Let's Make Wine (109 E. Main St.) will benefit the Rutherford County Cat Rescue. Costumes are encouraged but not required, and festivities include a DJ playing a huge range of music, food, wine samples, raffles, prizes and more. Tickets are $20 per person in advance (find Black Cat Bash on eventbrite.com or Facebook) or $25 per person at the door. All proceeds will go to help the homeless cats in Rutherford County.
Oct 14 – Bicycle Tours of the Stones River National Battlefield
Join a park ranger for free guided bicycle tours of Stones River National Battlefield (1563 N. Thompson Ln.) on the second Saturday of the month (Oct. 14). Get exercise, reduce your carbon footprint, and learn about the major Civil War battle that occurred here in late 1862 and early 1863. Stop along the way to discuss the major military actions that affected the outcome of the Battle of Stones River such as Slaughter Pen, the desperate stand of the Union army along the Nashville Pike. Meet at the visitor center at 8:45 a.m. with bikes. Helmets are encouraged (children under 16 are required to wear them). The seven-mile ride lasts about 90 minutes. For more information, call 615-893-9501 or visit nps.gov/stri.
Oct. 14 – D.F. Jones Book Signing
Linebaugh Public Library (105 W Vine St.) hosts local author D.F. Jones for a book signing Saturday, Oct. 4, from 11 a.m.–1 p.m. Jones signs and sells copies of her books from the Ditch Lane Diaries Series and her newest work, Spinning Time, which tells the story of Southern debutante Julia Boatwright, a fortunate 21-year-old propelled 70 years in the future. Jones' book The Witches of Hant Hollow will be released Oct. 14. For more information, call 615-893-4131 or visit linebaugh.org.
Oct. 14 – HOT100
Join the 27th Annual HOT 100 RIDE (not race) Saturday, Oct. 14, beginning at Community Care Center of Rutherford Country (901 Country Farm Rd.) and continuing throughout scenic Rutherford, Bedford and Cannon Counties with four routes for all levels of cyclists: 100, 66, 33 and 15 miles. Riders can take advantage of rest stops stocked with goodies, water and sports drinks as well as a post-ride meal. The ride starts at 7 a.m. For more information, visit mborobike.com/content/hot-100.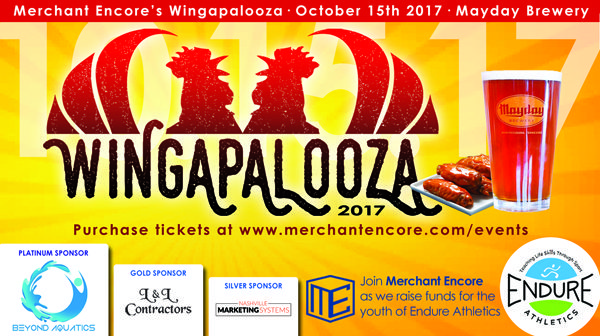 Oct. 15 – Wingapalooza
Enjoy cold beer, chicken wings and live music at Mayday Brewery (521 Old Salem Rd.) Oct. 15, from 11 a.m.–4 p.m., for Wingapalooza hot wing competition to find out who has the best wings in the 'Boro. All proceeds from paid admissions and raffles supports Endure Athletics, an organization that provides homeless children and youth with a safe, structured and encouraging environment to participate in fitness, athletics, literacy and Christ-centered mentorship at no cost to them. For more information, call 615-849-7850.

Oct. 15 – Tennessee Valley Winds
Join the Tennessee Valley Winds and Conductor Erich Zimmerman Sunday, Oct. 15, from 2-3:30 p.m. as they bring music back to one of the great battlefields of the American Civil War, the Stones River National Battlefield (1563 N. Thompson Ln.). Chairs and blankets are encouraged; some seating is provided. For more information, visit tnvalleywinds.org.

Oct. 17 – Evening on Main
Support downtown Murfreesboro at the historic home of Blake and Priscilla Smith (436 E. Main St.) from 5–7 p.m., Tuesday, Oct. 17. Known as the Leiper-Clayton-Dill home it was built in 1869 for James A. Leiper, a Murfreesboro attorney, and his wife; the Smiths have owned it since 2016. Evening on Main is a fundraiser for Main Street Murfreesboro, a nonprofit organization that works to preserve the community's charming downtown district. The suggested minimum donation for the event, which includes appetizers and beverages is $25. For more information, contact 615-895-1887 or michelle@downtownmurfreesboro.com.
Oct. 18 – Chili Cookoff
The Rutherford County government presents the fifth annual Chili Cook-Off and Silent Auction benefiting United Way of Rutherford and Cannon counties from 11:30 a.m.–1 p.m. Wednesday, Oct. 18, at the Historic Courthouse on the Murfreesboro Public Square. Prizes will be awarded for first and second place. A tasting bowl is $5—all you can taste! Coach Kermit Davis, Judge Mark Rogers, ESPN's Dawn Davenport and Autumn Friese of Puckett's Grocery will serve as judges.
Oct. 19 – Learn, Grow, Connect Conference for Women
Nissan and the Rutherford County Chamber of Commerce invite everyone to the Embassy Suites Murfreesboro Hotel & Conference Center (1200 Conference Center Blvd.) Thursday, Oct. 19, from 8 a.m.–3:15 p.m. for keynote speaker Dale Smith Thomas, President and Founder of Winners By Choice, Inc., and an international motivational speaker and author. Admission is $65 for chamber members and $85 for future members. Advance registration is required. For more information, call 615-893-6565.
Oct. 19 – The Connection
The Connection: An Evening of Professional Networking and Business Brainstorming will be held from 5–7 p.m. on Thursday, Oct. 19, at Mayday Brewery (521 Old Salem Rd.). All Middle Tennessee entrepreneurs and professionals are welcome to attend this casual, no-obligation event, where they can meet other small business owners and tap into one another's experience and energy. An open roundtable discussion will encourage participation from those in attendance, asking them to articulate their vision for their business and calling for examples of some of the business challenges and solutions they are experiencing. The series will continue the third Thursday of each month.
Oct. 19 – Firefly Supper
Celebrate the third annual Firefly Supper benefiting Doors of Hope on Thursday, Oct. 19, at Stone Gate Farm (714 Floraton Rd.) featuring delicious farm-to-table food prepared by talented local chefs in a gorgeous venue served by the students from Blackman High School's Culinary Arts Department. The Ragsdale Family Foundation is the presenting sponsor. Doors of Hope is expanding with initiatives including Red Door Catering, offering women in the program a place to gain work experience in the kitchen, and the Therapeutic Community at the Rutherford County Correctional Work Center. Recently, Project HOPE was launched at the Rutherford County Adult Detention Center, focusing on education and transition planning. A variety of classes are offered, and case managers work with each woman to assess needs, help locate resources, and map out a plan for success. For more information on the event, contact 615-900-0634 or stephdrk@gmail.com or visit opendoorsofhope.org.
Oct. 20-28 – Ghost Tours (Fridays and Saturdays only)
Many guests over the years have experienced eerie happenings inside the historic Sam Davis home (1399 Sam Davis Rd., Smyrna). On the evenings of October 20, 21, 27 and 28, from 7–11 p.m., guests can decide for themselves as they board a haunted hayride traveling through the historic site and hearing grim tales of history on the property and in the surrounding. Inside the home, hear hauntingly true tales of ghost encounters experienced by visitors, staff and volunteers while guided along dark, winding trails by lantern guides. This is not recommended for children under the age of 10. Guests can choose from either the hayride tour or the lantern-lit walking tour upon arrival. Tickets are $10 per person and are available at the door. For more information, call 615-459-2341 or visit samdavishome.org.
Oct. 21 – Fall Kids Fest
Bring the whole family for entertainment, inflatables, a trackless train and face painting at participating stores throughout The Avenue (2615 Medical Center Pkwy.) for the 11th Annual Fall Kids Fest on Saturday, Oct. 21, from 10 a.m.–2 p.m. in Belk's rear parking lot along with trick-or-treating from 11 a.m.–1 p.m. After trick-or-treating, stick around for the costume parade at 1 p.m. For more information, call 615-893-4207 or visit theavenuemurfreesboro.com.

Oct. 25–29 – Dog Agility World Championships
Nearly 1,000 canine athletes from nine different countries are headed to the Tennessee Miller Coliseum (304-B West Thompson Ln.) Oct. 25–29 to compete in the Cynosport World Games Dog Agility World Championships. The world's best canine athletes will race over obstacle courses while being navigated by their human partner. Competitors battle for the world champion title and more than $10,000 in prize money. Tennessee Miller Coliseum gives spectators multiple rings of competition like hurdles and A-frames, tunnels, hanging tires, weave poles and the seesaws. Fun classes are also available for spectators' dogs. Shop for your pets at the trade fair with food and beverages and various events. Entrance gate admission is $5 per car on Saturday and Sunday. The United States Dog Agility Association is the world's largest, independent canine sports authority, dedicated to promoting the sport of dog agility as a recreational, family sport that fosters responsible pet ownership. For more information, visit cynosport.com or call (888) AGILITY (244-5489).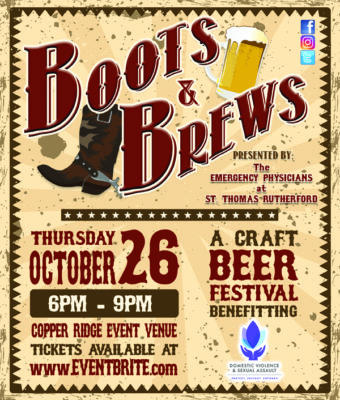 Oct. 26 – Boots & Brews
Boots & Brews brings a honky-tonk atmosphere with craft beer, music and dancing at Copper Ridge Event Venue (3597 Betty Ford Rd.) from 6–9 p.m. to support Domestic Violence Program & Sexual Assault Services, whose mission is to protect victims, prevent violence and empower survivors. Citizens of Rutherford County are supported with the resources and assistance necessary to effectively deal with the personal, social and legal implications of victimization by domestic violence and sexual assault. For more information on the event, visit dvpshelter.org/events/boots-brews or find tickets on eventbrite.com.
Oct. 27 – Start It Up! Conference
It's Shark (Tank) Week at MTSU with Dean David Urban of MTSU's Jones College of Business inviting you to an exciting conference Friday, Oct. 27, at the Embassy Suites Murfreesboro (1200 Conference Center Blvd.). The focus of the conference is on the passion and innovation needed to start and grow new businesses. Daymond John, a self-made multimillionaire and star on ABC's Shark Tank, motivates and inspires with true-life tales of his incredible successes and numerous failures. Vinh Giang, an successful online businessperson, offers problem-solving techniques to help budding entrepreneurs. Doors open at 11 a.m. with lunch at 11:30 a.m. followed by the two dynamite speakers. For more information, visit mtsu.edu/business.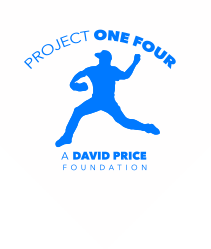 Oct. 27 – Project One Four Golf Classic
Join five-time MLB All-Star David Price for the 10th Annual Project One Four Golf Classic at Old Fort Golf Club on Friday, Oct. 27, at 8 a.m. Proceeds benefit the Project One Four Foundation which helps youth throughout Middle Tennessee. For more information, call 615-478-0007 or visit project14.org.
Oct. 28 – Charity Casino Night
The Kimberly Family Foundation invites everyone to a Charity Casino Night presented by The Crossings at Victory Station and The Alley on Main on Saturday, Oct. 28, at the Middle Tennessee Association of Realtors Building (311 Butler Dr.). Enjoy hors d'oeuvres, a full open bar and three hours of Vegas-quality casino games. The Kimberly Family Foundation is committed to supporting organizations and programs in Rutherford County and Middle Tennessee that work towards decreasing poverty, homelessness and hunger. Proceeds support local charities consistent with this mission including Endure Athletics, Greenhouse Ministries and Second Harvest Food Bank. Tickets are $100 and include food, drinks and games. To learn more about the event, visit kimberlyfamily.org.
Oct. 28 – Gateway Village Fall Festival
The Gateway Village, 820 N. Thompson Ln., will host a fall festival and open house on Saturday, Oct. 28, from 10 a.m.–3 p.m. The festival will celebrate the fall season with costume contests, candy, crafts, music and food. There will be Village goodie bags for children dressed in a costume, and there will also be a pet costume contest. Cousin's Maine Lobster and Sprout's Farmer's Market will be on hand and Larry Garrett will provide live music. The Gateway Village will also offer tours of its upscale mixed-use development, featuring urban lofts, luxury condos, retail and office space. For more information, call Lisa or Crystal at 615-898-0000.
Oct. 28 – Howloween
PAWS and Rutherford Recycles team up to host a "Howloween" party from 11 a.m.–1 p.m. Saturday, Oct. 28 at PAWS, 285 John R. Rice Blvd. This includes a pet costume contest, trunk or treat, games and light refreshments. A costume contest begins at 12 p.m. Costumes must be made from reused or recycled materials to be accepted into the contest. First, second and third prize winners will be crowned, with help from guest judge Cecilia Herrell from Channel 3.
Oct. 31 – Trick or Treat on the Square
Visit downtown businesses for the Fifteenth Annual Trick or Treat on the Murfreesboro Square on Tuesday, Oct. 31, from 3–6 p.m. For more information, visit downtownmurfreesboro.com.
Oct. 31 – Trick or Treat at Oaklands Mansion
Bring your little ghosts and goblins to the doors of the haunting, dimly lit Oaklands Mansion (900 N. Maney Ave.) for trick-or-treating on Tuesday, Oct. 31, from 4 p.m. until all the candy is gone. Free and open to public. For more information, contact 615-893-0022 or info@oaklandsmansion.org.
Nov. 3 – Open House at Studio L
Studio L hair salon will host an open house on Friday, November 3 from 6 to 9 p.m. The salon invites the public to come out and meet their team members. There will be hors d'oeuvres, champagne, product giveaways, complimentary styling lessons, and an introduction to Paul Mitchell's new product collection Invisiblewear. Reserve an appointment time that evening for a special deal. Studio L is located at 208 West Vine St., across from City Hall's parking garage. Studio L is a Paul Mitchell Focus salon on a mission to give clients a positive salon experience and to create a customized look for individuals and their lifestyle.