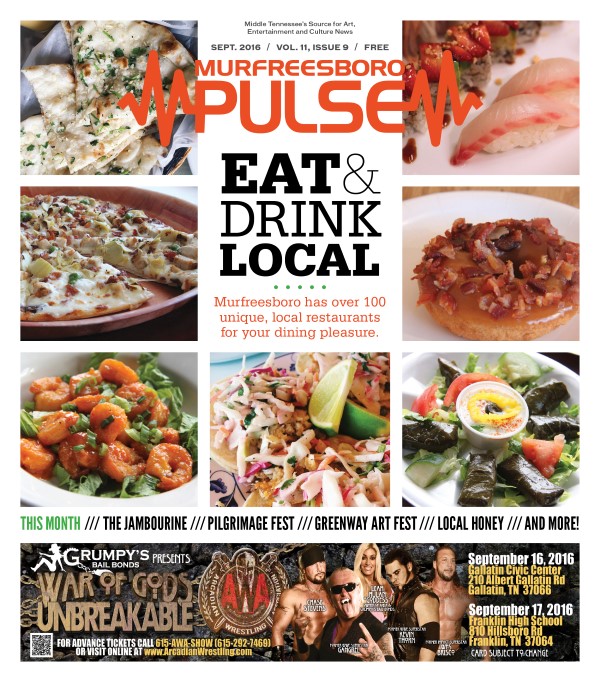 FEATURE STORIES:
Mr. Jambourine Man
Hunter Marlowe wins MTSU business plan competition.
NRBQ
Fifty-year old band makes Sept. 7 stop in Nashville.
Around the Globe
Cannonsburgh  hosts 'Boro International Festival, Sept 10.
Wine Around the Square
Annual event raises funds for Power of Pink, Sept 17.
Honey, Honey, Honey!
Area beekeepers enjoy educating others about sweet nectar of the bees.
ON THE COVER:
Eat & Drink Local
Murfreesboro has over 100 unique restaurants for your dining pleasure.
Blue Raider to Blue Sky
MTSU alum Mikki Rose lands dream job as animator with Blue Sky Productions.
IN EVERY ISSUE:
September Community Events
Hummingbirds; Tractor Pull; Yoga at the Avenue and more!
Local Concerts
Kennedy Jones; The Hardin Draw; Mary Gauthier and more!
Album Reviews:
Harper and the Bears, Theta Waves
Music Notes:
Pilgrimage Fest is Back
WMOT Welcomes New Americana Format
LIVING
Gardening: Growing Herbs
Grown Local: Benefits of Honey
Spotlight on Business: 60 Minute Escape
FOOD
City Cooking Up New Food Truck Ordinance
MOVIES
Reviews:
War Dogs
Sausage Party
Living Room Cinema
Never to See the Light of Day
ART
Greenway Art Festival
Photos by Steve McCurry on Display at MTSU
NEWS
'Boro Business Buzz
Glenn Merchant; Doin Hair; Stones River Mall Playground
Navigating the System
Inside Rutherford Co. Dept. of Probation and Recovery Services
OPINION
The Stockard Report
Lawsuit filed after high-speed chase fatality.
SPORTS
MTSU Sports
Blue Raiders kick off season Sept 3.
Sports Talk with Z-Train
Titans have great running back combo in Murray and Henry.