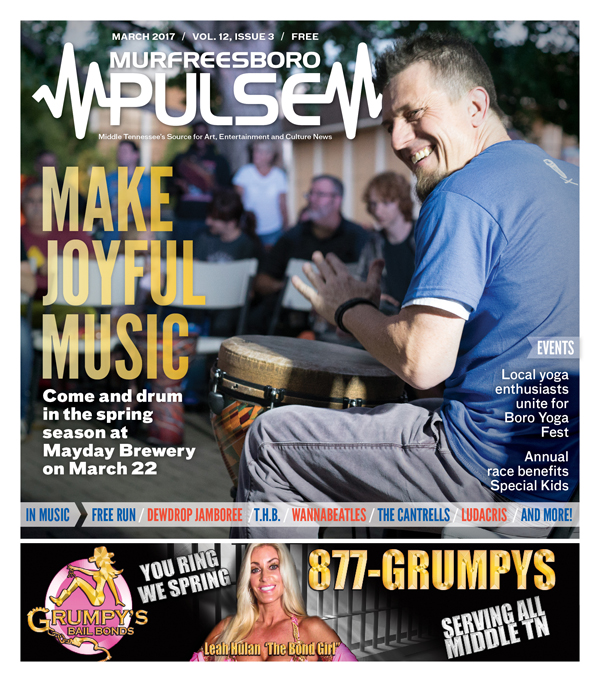 MURFREESBORO COMMUNITY RHYTHM EVENT RETURNS
Everybody Drum Some leads March 22 group drumming event at Mayday.
FREE RUN
Husband and wife music duo Russell and Kachina Rodden explore God's love through music.
Z'S COMIC LAIR
Zambrano brother's lifelong love of comics culminates in Murfreesboro shop.
BORO YOGA FEST
Local yoga instructors join forces for all-day yoga fest, March 18. Proceeds to help promote yoga in prisons.
SPECIAL KIDS RACE
Massive annual race serves as fundraiser for local Special Kids Therapy and Nursing Center.
EVENTS
Murfreesboro Aviation Poker Run, Lone Star Rodeo, Mardi Paws, Gatsby Party and more!
MUSIC
LOCAL CONCERTS
The WannaBeatles
Ludacris
Dewdrop Jamboree
T.H.B.
Commander Keen
The Cantrells
Bonhoeffer's
The Acorn People
FOOD
Sub Stop: Stop for the Subs, Stay for the Pizza
Recipe: Sausage, Swiss Chard and Mushroom Bake
LIVING
Gardening: Planting for Wildlife
NINETY9
Herbalist creates remedies with local ingredients.
REVIEWS
The Lego Batman Movie
Hidden Figures
Get Out
Lion
54 FILM FEST
Teams compete in a quick-paced film project.
LIVING ROOM CINEMA
Awareness and Contemplation
TV SERIES
A Series of Unfortunate Events
NEWS
Navigating the System, Part 8: The Workhouse
'Boro Business Buzz
Vintage at the Avenue, Epps Mills Market, Nothing Bundt Cakes and more!
Money Pulse: Manage Your Credit
OPINION
The Stockard Report
Courts weigh Hobgood fallout as third lawsuit is filed.
Live Exceptionally . . . Well!
Put it on pause.
Views of a Conservative
Illegal immigrants with criminal records need to go.
SPORTS
MTSU Sports
Men's basketball team captures regular season conference title