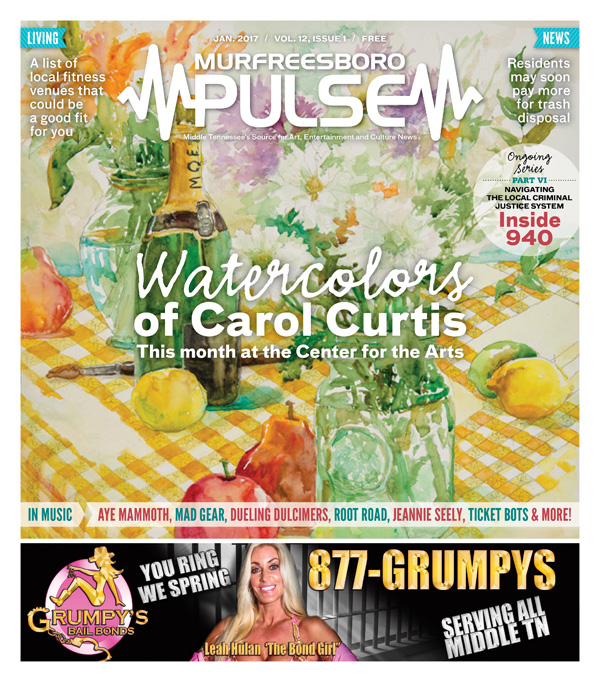 FEATURES
Battling the Bots
Obama signs ticket bot bill into law, but will it be enough to combat price-gouging scalpers?
Watercolors by Carol Curtis
Center for the Arts hosts colorful exhibit in gallery this month.
Picking up the Tab
Murfreesboro residents to soon begin paying $5 monthly fee for trash collection services.
Fitness in Martial Arts
Martial arts training can be fun and beneficial for the whole family.
Get Fit Murfreesboro
Find a gym, CrossFit, yoga or martial arts program that fits you.
IN EVERY ISSUE
Events
Polar Bear Plunge, Alberta Tolbert book signing, African American Cultural Night and more!
Sounds
Album Reviews
Aye Mammoth, Venomous Bones
The Mad Gear, The Mad Gear Must Pay
Music Notes
Old Time Jam Series at Mayday
Dueling Dulcimers
Root Road Releases New Single
Jeannie Seely Appears on The Justin Reed Show
Living
How You Can Affect Water Quality
Food
Restaurant Review:
I Love Juice Bar
Recipe: Brussels Sprouts with Walnut Gremolata
Art
Nature photos by Spears McAllester
Theater
Rumors Brings Mystery to MLT
Movies
Allied
Passengers
Living Room Cinema
The Free Press
Game
Final Fantasy XV
News
Navigating the System
Part VI—Lower 940
Business Buzz
Helen's Hot Chicken, Outpost Armory, Jug Creek Distillery, My 4 Dogs and more.
Opinion

The Stockard Report
Officers did not follow policy during April 2016 arrests at Hobgood Elementary.
Living … Exceptionally Well!
Get Grounded
Views of a Conservative
Hillary lost more electors than did Trump.
Q & A with State Rep. Bryan Terry
Republican sees Trump election as good for state rights.
Sports
MTSU Sports
Blue Raiders can't contain Rainbow Warriors offense in Hawaii Bowl.
Sports Talk
Peyton, LeBron and the Cubs all had a successful 2016.