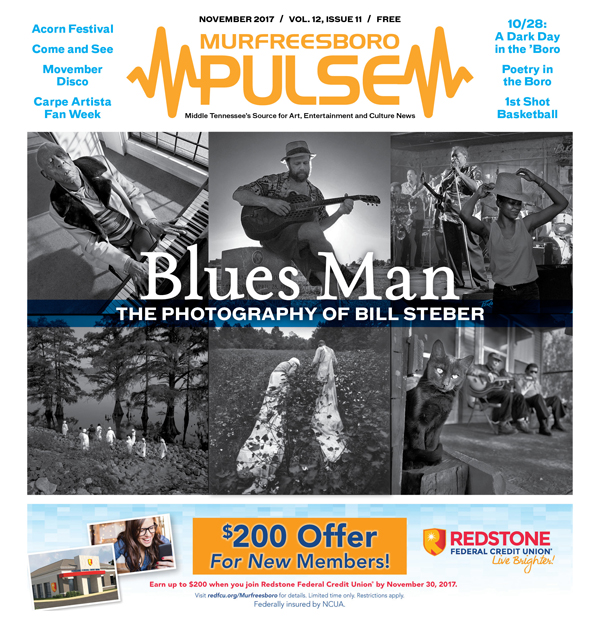 FEATURES:
Around the Globe
Boro International Festival returns to Cannonsburgh Village on Nov. 11.
August Christopher
All or Nothing: The hardest working band you've probably never heard of.
1st Shot Basketball
Murfreesboro program provides sport and life training for area youth.
Capturing the Blues
Photographer Bill Steber documents the music of the Mississippi Delta.
ID Theft
Recent breaches suggest everyone is vulnerable.
IN EVERY ISSUE:
Events
This Month: Veterans Day Parade; Turkey Giveaway; and more!
SOUNDS
Local Concerts
Matthew West, MTSU Singers and more!
Music Notes
Come and See
Movember Disco
Album Reviews
Bled to Submission
Kenny Mc
LIVING
Gardening
Coldframes for winter and using pumpkins
Restaurant Review
Through the Grapevine
Recipe
Pumpkin Apple Bread
Art
Theater
Catch Me If You Can
Race
Poetry
Nov. 12 event features Bryanna Licciardi and Jeff Hardin
Movies
Happy Death Day
Blade Runner 2049
Living Room Cinema
Korean Dramas
NEWS
Business Buzz
Taqueria Toluca, Murfreesboro Data, Kaleidoscope Vapor, The Newborn Nurse, Small Business Scavenger Hunt and more!
OPINION
The Stockard Report
White Lives Matter rally promoter a no-show in the Boro.
Live . . . Well!
Be ambitious with goals, not deadlines
Views of a Conservative
Corker and other establishment politicians out of touch.
SPORTS
Sports Talk
Pole dancing, dodgeball among sports recently recognized.
Boro 2 Square
Running group meets each Wednesday
MTSU Sports
Football team hopes to salvage season
Basketball teams to open new season